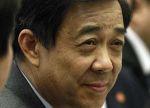 China on Saturday launched a criminal investigation into disgraced Communist Party leader Bo Xilai's alleged offences, a day after he was stripped of his legal immunity and expelled from the country's Parliament.
"The Supreme People's Procuratorate has decided to put Bo Xilai under investigation for alleged criminal offences as well as impose coercive measures on him in accordance with the law," state-run Xinhua news agency quoted an official statement as saying.
"The investigation is under way," the statement said.
The probe which comes ahead of the November 8 Communist Party Congress to decide the once in a decade leadership change were expected to be completed well before that.
He faces a number of charges including, corruption, moral turpitude and attempts to protect his wife Gu Kailai from investigations into the murder of British Businessman Neil Heywood in November last year.
Gu was given suspended death sentence by trial court after she confessed her role.
Several officials including the police chief of the Chongqing city were given varied sentences for their complicity in the murder.
Bo, 63, believed to be a votary of Mao Zedong's hard-line policies, was formerly secretary of the CPC Chongqing Municipal Committee and also a Politburo member.
Bo was expelled from the Communist Party and the government last month, after being stripped of leadership positions in April.
He once was considered a top contender for the all- powerful Politburo Standing Committee, the team of nine politicians who effectively rule China, but the news report on his expulsion last month, painted a portrait of corruption, abuse of power and improper sexual relationships.