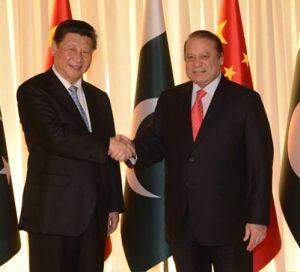 All-weather allies China and Pakistan have launched their first joint think-tank, the acronym of which became the butt of jokes on social media.
The Research and Development International (RANDI), launched around the time of Chinese President Xi Jinping's maiden visit to Pakistan, left some social media users in splits as the acronym sounded like a word in Hindu and Urdu that refers to a 'prostitute' in derogatory terms.
Twitter went berserk, with many relating the acronym to the closeness between the two countries.
In one of the more understated reactions, writer and political activist Fatima Bhutto tweeted: "Well, that's an unfortunate name for a think tank..."
Bhutto is the granddaughter of former Pakistani Prime Minister Zulfikar Ali Bhutto and niece of ex-premier Benazir Bhutto.
Prominent Indian journalist Shekhar Gupta also reacted, tweeting, "It took joint Pak-Chinese imagination to produce this marvellous 5-letter disaster of ACRONYMOLOGICAL proportions."
Others said the jokes around the acronym reflected the misogynist attitude of the people.
According to a press release, the think tank will be co-headed by Zhao Baige, a member of China's parliament, and Mushahid Hussain, a Pakistani opposition senator.
"The new think-tank is the first joint initiative of China and Pakistan which will be dedicated to research on the China-Pakistan Economic Corridor," Hussain said, adding it was associated with the prestigious Tsinghua University in Beijing.
The think-tank would work on providing an 'Information Corridor' to promote perspectives, data and information for policy-makers, students, specialists, scholars and companies of both the countries.