As it signed its first oil trade deal with Nepal ending India's monopoly over fuel supplies, China on Wednesday expressed readiness for "friendly" talks with India to stabilise the landlocked country, reeling under acute fuel shortage due to a blockade of border points with India.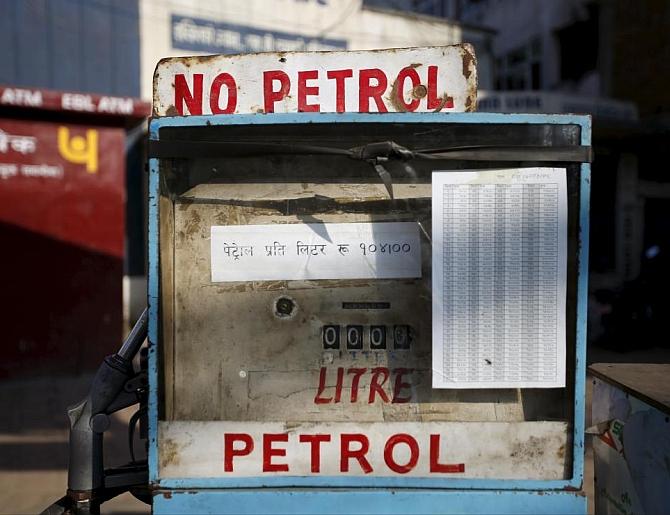 "Both India and Nepal are friendly neighbours to China," China's foreign ministry spokesman Lu Kang told a media briefing when asked about reports of backchannel talks between New Delhi and Beijing over resolving the constitutional crisis in Nepal.
"We hope that in maintaining regional stability and state-to-state friendship, all relevant countries can sit together and have friendly consultations so that consensus can be reached," he said.
About Beijing stepping up fuel and food supplies through its recently reopened border in Tibet, Lu said "as a friend and neighbour of Nepal, China hopes that Nepal can have stable domestic situation after the passage of the new constitution".
Asked whether China has commenced supplies to Nepal, currently hit by the Indian-origin Madhesis' protests over the new constitution, Lu said "in view of their (Nepal's) request, we will do our best to provide assistance and both sides are in communication".
A visiting Nepali delegation led by Nepali Ambassador to China Mahesh Maskey on Wednesday signed a Memorandum of Understanding with the Chinese government to import fuel from China, ending a four-decade supply monopoly of the Indian Oil
Corporation.
Foreign Ministry's spokesperson Dipak Adhikary confirmed that Nepal inked an agreement with China to import fuel to address the severe crisis in the country due to the blockade in the southern border with India.
The officials of Nepal Oil Corporation and China National United Fuel Corporation signed the agreement in Beijing to this effect, he told PTI.
The agreement envisages importing petrol, diesel and other petroleum products from China to Nepal.
"With the agreement, the procedure of importing fuel from China moves ahead," said Maskey.
China has also agreed to immediately supply around 1.2 million litres of fuel to Nepal on grant basis during the upcoming festival season.
The fuel has already arrived at Kerung, near Rasuwagadhi in the Nepalese side of border and Kathmandu is likely to get the supplies within a couple of days.
China has opened the border port at Jilung in Tibet with Nepal on war footing on October 13 after it was hit by the massive earthquake in April, sparking speculation that it will begin massive supplies fuel and other essential commodities to overcome the recent blockade imposed by agitators.
The agitation resulting in the blockade of trucks from the Indian border has created acute shortages in Nepal, after which some of the Nepalese leaders appealed to China to open the land route for supplies.
Protests have been ongoing for nearly a month over blockade of a key trade point with India mainly by the Madhesis against division of their homeland in the new Constitution.
Madhesi parties, that claim to represent the interests of these inhabitants of the Terai region, and Tharu ethnic groups are against the Constitution which they see it as flawed and discriminatory to their interests.