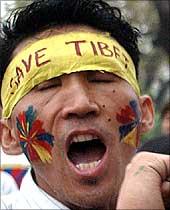 China has banned foreign tourists from travelling to Tibet ahead of a parade in the capital to mark 60 years of Communist rule.
The Daily Express quoted Tan Lin, an official with the business administration office at the Tourism Bureau of Tibet, as saying that foreign tourists would be banned from entering Tibet, but added that those who have already arrived would be allowed to stay.
China has tightened security in recent weeks ahead of the October 1 holiday that will see a military parade through the heart of Beijing, a speech by President Hu Jintao and a huge fireworks display.
The sale of knives has also been banned at some stores, including large retailers such as Wal-Mart and Carrefour, after two separate knife attacks near Tiananmen Square last week, according to store officials and state media.
A staff member at the sales department of the International Grand Hotel in Lhasa -- 2,500 miles (4,023 kilometres) from Beijing, was quoted as saying that the ban would remain till October 8.
The region has been periodically off-limits since riots in March 2008 saw Tibetans protesting Beijing's rule and attacked Chinese migrants and shops, and torch much of Lhasa's commercial district.
China says Tibet has historically been a part of its territory since the mid-13th century and the Communist Party has governed the Himalayan region since Communist troops arrived there in 1951.
Many Tibetans, on the other hand, say they were effectively independent for most of their history and say Chinese rule and economic exploitation are eroding their traditional Buddhist culture.