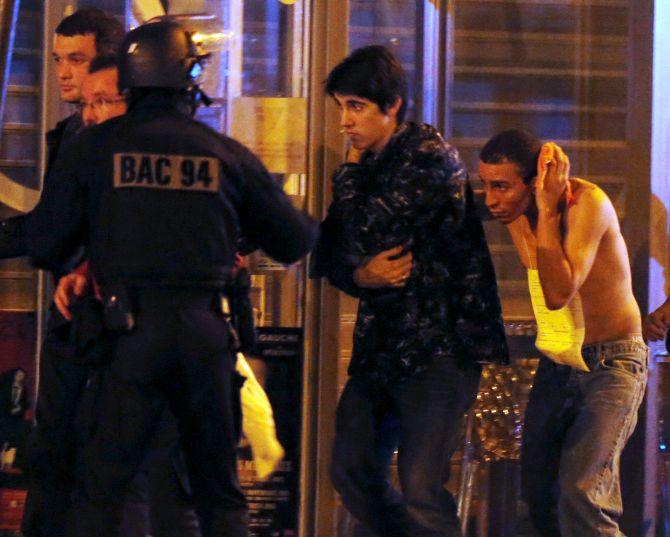 The horrific terrorist attack in Paris has been described as the copycat version of the 2008 Mumbai assault by security experts who believe that the incident will be a game changer for how the West looks at the threat terrorism presents to all.
At least 128 people were killed as terrorists attacked sites throughout the French capital and at the stadium where the soccer match was underway.
Former chief of Maharashtra Anti-Terrorist Squad K P Raghuvanshi told the Press Trust of India, "Though details about the modus operandi of the Paris terror attacks are yet to be divulged, on the basis of whatever preliminary information or reports we have received, we can say that the modus operandi mostly matches with Mumbai attacks."
Drawing parallels between the Friday night multiple attacks in Paris and 26/11 terror let loose by LeT in Mumbai, in which Pakistani terrorist Ajmal Kasab was captured, Raghuvanshi said in both the attacks foreign tourists were targeted to intimidate global communities.
"Timing of the attack, style of combating by coming in a group, selecting multiple locations, targeting the civilians at places of gathering or iconic spots, targeting of international tourists to intimidate global communities, opening indiscriminate firing with guns and granades were some of similarities between the attacks in the two capitals," he added.
Raghuvanshi, who was the chief of ATS which handled the investigation of 26/11 attacks, however, said that the one of the differences was that in France, the attackers came as suicide bombers.
"But I must add here that city police and the state government learnt a lesson from the attack, and if such incidents take place again, terrorists would be neutralised immediately," Raghuvanshi added.
Defence and security analyst Brigadier (Rtd) Hemant Mahajan said that in terms of use of weapons, intelligence failure as well as modus operendi there had been 70 per cent similarities in attacks in the two mega cities.
Terming both the attacks as the results of failure of "generic intelligence" or "actionable intelligence", Mahajan, a member of Forum for Integrated National Security, an NGO presenting blueprint of country's security, said, "If we talk about the disparities then we find that in Mumbai terrorists had entered the city via coastal route, while in Paris they entered by intermingling with locals."
John Miller, deputy commissioner of intelligence and counter-terrorism of the New York Police Department told CNN in an interview, that the Paris attack resembles the Mumbai terrorist attack in terms of low-cost low resources and carried the various features of the 26/11.
Bruce Hoffman, head of the national security programme at Georgetown University, in an interview to the popular National Public Radio referred to a call given by al Qaeda leader, Osama bin Laden, five years ago to carry Mumbai-type attack across Europe.
"The attacks show a level of sophistication we really haven't seen in an urban area since 2008 in the attack in Mumbai," Michael Leiter, former director national counterterrorism center, told NBC News.
"This will be a game changer for how the West looks at this threat," Leiter said.
In an interview to Newsmax TV, retired Air Force General Michael Hayden said the Paris violence was "certainly a terrorist attack" and that "our fears have been realised" because the assaults greatly mirror the 2008 terrorism in Mumbai.
"We had great fear that we would see copycat versions of that attack -- and now, I fear that our fears have been realised, and we're seeing that carried out tonight in Paris," Hayden said.
"It shows the fragility of free societies. It shows the great danger that international terrorism presents to all of us," he said.
Brian Michael Jenkins from RAND Corporation told The Press Enterprise newspaper that the Paris attacks were reminiscent of the November 2008 assault on the densely crowded Indian city of Mumbai, where teams linked to an Islamic militant organisation carried out a series of coordinated shooting and bombing attacks lasting four days.
"These sorts of attacks are a matter of determination and the ability to acquire weapons," Jenkins said.
"In some of these European countries, anyone with criminal connections can acquire an AK-47. It doesn't require a great deal of skill to shoot diners at a restaurant or spectators at a rock concert. You don't need to go through training," he said.
WBZ-TV security analyst Ed Davis says the Paris attack resembles the Mumbai terrorist attack.
"This is exactly what we fear most. A Mumbai-style attack with multiple teams simultaneously hitting different places," Davis said.
Image: French special forces evacuate people, including an injured man holding his head, as people gather near the Bataclan concert hall following fatal shootings in Paris. Photograph: Christian Hartmann/Reuters