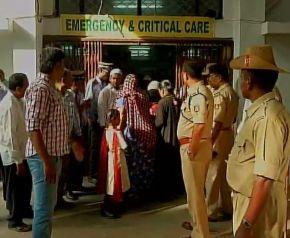 Around 350 children of a government-run Urdu primary school were hospitalised on Friday as they took ill after having mid-day meal at K G Halli.
The children were rushed to hospital after they complained of headaches and stomachaches and started vomiting, doctors at the Dr Ambedkar Medical College Hospital said.
"Around 350 students have fallen ill and have been admitted to AmbedkarHospital. Most of them have returned home after getting the treatment," Health Minister U T Khader said.
"When we came here many children had gone home after getting the treatment. No one should panic and create confusion. We have to clear confusion and fear among parents and children," he said, adding, "We will discuss this with the department concerned, investigate the matter and take action."
Transport Minister Ramlinga Reddy, who visited the hospital, said 350 children took ill but they were now "alright and will be discharged soon".
Anxious parents rushed to the hospital, making it tough for the police to control them. The children were brought to the hospital around 3.30 pm with complaints of vomiting sensation, Anjaneya, manager, Ananda social and educational Trust which runs the hospital, said.
He said doctors were told that a lizard was found in the food served to the children. According to him the children were brought to the hospital and about 30 had already been discharged. "Others are undergoing treatment. There is no serious case."
Image: Parents, cops collect outside the hospital where the sick kids were taken for treatment. Photograph: ANI/Twitter
© Copyright 2023 PTI. All rights reserved. Republication or redistribution of PTI content, including by framing or similar means, is expressly prohibited without the prior written consent.