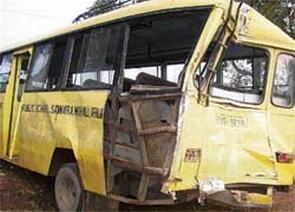 Ten students were killed and over 15 injured, five of them seriously, when their school bus collided with a truck in Rajasthan's Hanumangarh district on Tuesday.
The incident occurred near Amarsingh Wala village when the bus was on its way to SaraswatiSchool in Goluwala from Surawali with about 40 children, the police said.
While seven children were killed on the spot, three succumbed to injuries in a hospital. The deceased were identified as Gagandeep, Amit, Sarita, Ayush, Amit, Sahil, Rajesh, Nakul, Manju and Lokesh, aged between 9 and 16 years, the police said.
The bus driver is absconding.