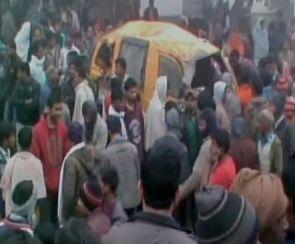 Negligence by the van driver appears to have led to its collision with the train near Mau in Uttar Pradesh which led to the death of six kindergarten students on Thursday, government told Parliament.
In a statement in Lok Sabha, Railway Minister Suresh Prabhu also said the visibility in the area was poor due to foggy conditions at the time of the mishap.
The same statement was read out in the Rajya Sabha by Minister of State for Parliamentary Affairs Mukhtar Abbas Naqvi on Prabhu's behalf.
"As per the preliminary information received, the incident occurred due to the negligent driving by the driver of the road vehicle. The driver did not stop the road vehicle at the stop board short of the level crossing to check for any approaching train as prescribed in Section 131 of Motor Vehicle Act, 1988," the railway minister said.
"As per the last information received, 16 passengers of the van have been admitted to two local hospitals in Mau while six passengers have died," he said.
He said an ex-gratia amount of Rs 2 lakh each to the next kin of deceased, Rs 1 lakh to greviously injured and Rs 20,000 to persons with simple injuries has been announced.
Six kindergarten children were killed and several others were injured when a school van crashed into a Varanasi-bound passenger train at an unmanned railway crossing in Mau.
Prabhu pointed out that there are 11,000 unmanned crossings in India.
"This is very sad that these accidents take place in this manner. While it should be an effort, and all of us join in that effort, to make sure that we have manned crossing or a crossing in which such accidents do not take place; but while we do that, we are trying to find out a way of preventing such accidents by taking such steps. I am really working on that," he said.
Image: Crowds gather around the van that hit a train in Mau district in Uttar Pradesh. Photograph: ANI/Twitter
© Copyright 2022 PTI. All rights reserved. Republication or redistribution of PTI content, including by framing or similar means, is expressly prohibited without the prior written consent.