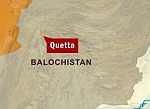 A child was killed and 15 others, including four policemen, were injured when a bomb attached to a bicycle went off at a crowded market in Quetta city of southwest Pakistan on Monday, officials said.
The bomb, planted on a cycle that was parked at Braich Market in the capital of Balochistan province, was triggered by remote control, police officials said.
The child was killed instantly, witnesses said.
Rescue workers rushed the injured to the Civil Hospital, where officials described their condition as stable.
A bomb disposal team scoured the site for evidence.
The blast occurred as a group of policemen were conducting routine checks in the area.
Reports said a Shia police officer was the target of the attack though this could not immediately be confirmed.
No group claimed responsibility for the attack.
Quetta and other cities across Balochistan have witnessed a series of sectarian attacks targeting the minority Shia community.
Most of the attacks have been blamed on the banned Lashkar-e-Jhangvi.