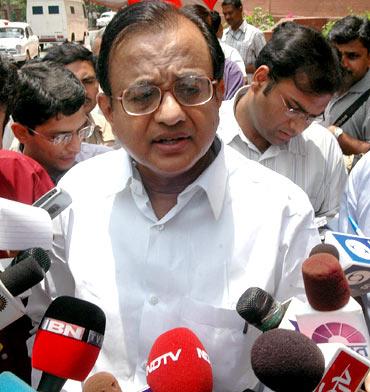 Criticised by his party colleague Digvijay Singh on the anti-Naxal strategy, Home Minister P Chidambaram said if someone can do the job better he would be the happiest person.
"He (Singh) is the general secretary of our party. I have a job to do  and I am doing my job to the best of my ability.  If someone can do the job better, I would be the happiest person," he told a business newspaper.
He was replying to a question whether he though that a perception among some Congress leaders that he was an "inflexible" persons was an unfair description.
Singh last week justified what he had written about Chidambaram's handling of the Maoist problem and claimed that it reflected Congress policies.
In the interview, the minister said there was no operation against the Maoists directed by the Centre. These operations have always been conducted at the state level.
"What has changed after October, 20098 is that we no longer just provide paramilitary forces--we want to know how they are deployed, whether they are deployed, what the objectives are and how the results can be obtained," he said.
So, Chidambaram said, there was now a greater degree of consultation and coordination between the Centre and State concerned and inter-state coordination between two or more states, which was facilitated by the Centre.
"That is the difference.  But there is no unified operation by whatever name, Operation Greenhunt" or whatever name," he said in reply to a question whether there is a  unified operation against Naxals directed by the Centre and the States.
He dismissed reports of police ammunitions finding their way to Maoists.  There was one case which was being investigated and it was not a widespread problem.
About Naxals, Chidambaram said they were among the "most crafty capitalists" in the country.  "They do business in violation of the laws, they collect rents, they don't pay taxes, which makes them very crafty capitalists."
In such a situation, he said, if a company has to do business sometimes it was forced to pay rent to Naxalites in the form of levy, extortion money--and these are rents in the economic sense--that is a fact of life.
"Unless the State is able to pay these rents to protect their investments.  I am not turning a blind eye, I understand their compulsions and I don't approve of it, but the State is helpless ."