The stage is for a contest in the June 11 Rajya Sabha elections in Uttar Pradesh, Karnataka, Rajasthan, Madhya Pradesh and Haryana even as union ministers Piyush Goyal and Suresh Prabhu, senior Congress leader P Chidambaram, Janata Dal-United leader Sharad Yadav and all six nominees of All India Anna Dravida Munnetra Kazhagam and Dravida Munnetra Kazhagam in Tamil Nadu were elected unopposed.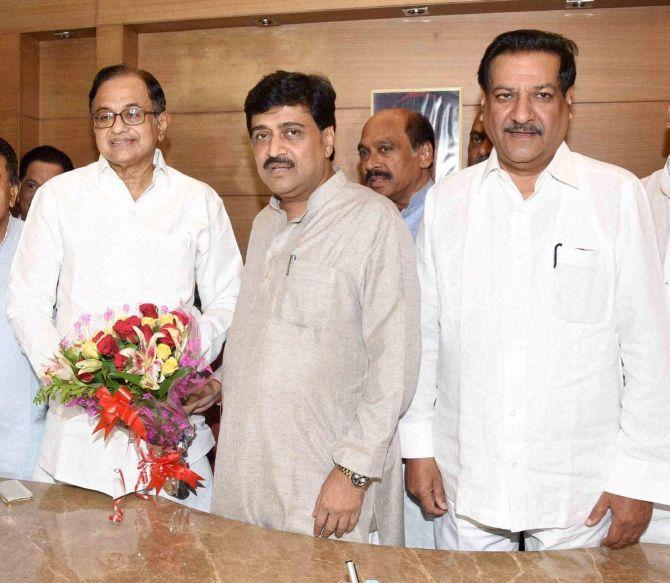 IMAGE: Former Union minister and senior Congress leader P Chidambaram was elected unopposed from Maharashtra. Photographs: PTI
As the deadline for withdrawal of nominations ended, absorbing battles are expected in Uttar Pradesh and Madhya Pradesh where the success of Congress nominees Kapil Sibal and Vivek Tankha, a Supreme Court lawyer, could be decided by the stand of Bahujan Samaj Party which had bailed out the Congress government in Uttarakhand in the floor test on the floor of the assembly.
In Madhya Pradesh where polling will be held for three seats, ruling Bharatiya Janata Party's M J Akbar and senior party strategist Anil Madhav Dave are set to win but the party's third candidate Vinod Gotia, who has filed as an Independent candidate, can make things difficult for Vivek Tankha. BJP has 166 seats in the 23-member MP assembly.
With 57 seats, Congress is short of just one vote to win the polls while BJP needs eight extra votes to ensure the victory of Gotia. That makes BSP's four MLAs crucial for Gotia.
In Uttar Pradesh, a contest was forced by the presence of 12 candidates for the 11 Rajya Sabha seats as the two extra aspirants remained in fray at the end of withdrawal on Friday.
The contest became interesting after Independent candidate Preeti Mahapatra, a social worker, filed her papers at the last moment as the 12th candidate for the 11 seats going to polls next week, thereby forcing voting.
Several BJP MLAs and members of smaller parties besides some Independents have signed Preeti's nominations, raising the possibility of cross-voting.
Congress has accused Preeti of being a BJP candidate who could encourage horse-trading that might queer the pitch of Sibal who needs five extra votes for victory. Congress has 29 MLAs and each candidate needs 34 votes for Rajya Sabha win.
This is where the role of BSP's surplus votes will matter.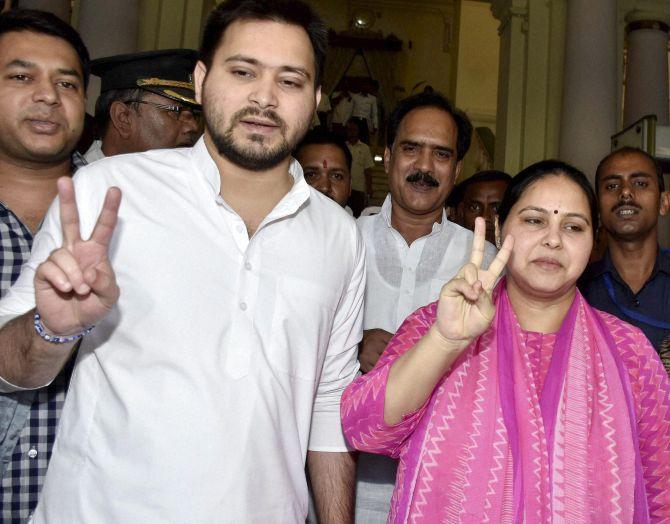 IMAGE: Lalu Prasad Yadav's daughter Misa and her brother Tejaswi flash a victory sign after she too was elected unopposed.
A contest is also imminent in Karnataka where five candidates, including Union minister Nirmala Seetharaman and senior Congress leaders Jairam Ramesh and Oscar Fernandes, are vying for four Rajya Sabha seats.
Besides Ramesh and Fernandes, the state's ruling Congress has fielded former IPS officer Ramamurthy, giving anxious time to Janata Dal-Secular which needs five additional votes to see its candidate B M Farooq through as it has 40 members. The required strength for victory is 45 votes.
To JD-S' discomfiture, five of its MLAs, including Zameer Ahmed, have reportedly decided to back the third candidate of Congress which is sure of two seats but falls short of numbers for the third candidate.
Congress has 122 MLAs and needs extra 13 votes to ensure the victory of its third candidate, with chief minister seeking the support of 11 independents and five JD-S rebel legislators.
BJP is also short of one vote but is confident of making up the shortfall.
In Rajasthan, polling for the four Rajya Sabha seats in Rajasthan will take place as no candidate withdrew their nomination on Friday with four BJP candidates, including Union minister M Venkaiah Naidu, and one Independent candidate, supported by opposition Congress, NPP and some Independent MLAs, have filed nominations for the four seats.
Besides Naidu, BJP national vice president Om Prakash Mathur, former Reserve Bank of India official Ramkumar Sharma and member of the erstwhile Dungarpur royal family Harsh Vardhan Singh are the party nominees whereas former Union minister and businessman Kamal Morarka has filed nomination as an Independent.
Haryana too will witness a race among the four candidates for the two seats.
Union minister and BJP leader Birender Singh is set for a comfortable run to the Rajya Sabha because of his ruling party's sheer number in the 90-member Haryana assembly a keen contest is on cards between BJP-backed media baron Subhash Chandra and INLD supported lawyer R K Anand both of whom are in fray as Independents.
Chandra has said he was in touch with individual MLAs and he and Anand are vying for the second seat in Haryana.
Congress has 17 members in the assembly while ruling BJP 47, Indian National Lok Dal has 19, BSP 1, Shiromani Akali Dal 1 and 5 are Independents.
IMAGE: Railway Minister Suresh Prabhu has been elected from Andhra Pradesh.
It remains to be seen if Chandra gets the support of remaining BJP MLAs after 31 are needed for Birender Singh's win. He also needs the support of some INLD or Congress MLAs to sail through.
In the other 10 states, including Maharashtra, Tamil Nadu, Bihar, Punjab, Chhattisgarh, Andhra Pradesh and Gujarat, where Rajya Sabha elections are being held, unopposed elections were the order of the day.
All the six candidates for as many RS seats in Maharashtra pulled out, all were elected to the Upper House including Chidambaram, Goyal, former union minister Praful Patel (NCP), BJP's Vinay Sahasrabuddhe and Vikas Mahatme and Shiv Sena's Sanjay Raut.
In Tamil Nadu, AIADMK candidates R Vaithilingam, A Navaneethakrishnan, A Vijayakumar, former Union Minister S R Balasubramoniyan, DMK nominees R S Bharathi and T K S Elangovan were declared elected to fill the vacancies of the six members who will retire on June 29 this year.
In Andhra Pradesh, withdrawal of V Sunanda Reddy, a dummy candidate on behalf of main opposition YSR Congress, from the fray paved the way for the unopposed election of four main candidates -- Railway Minister Suresh Prabhakar Prabhu backed by BJP ally Telugu Desam Party, Union Minister of State for Science and Technology, Y Satyanarayana Chowdary and T G Venkatesh and V Vijaysai Reddy of TDP.
Sharad Yadav of ruling JD-U, noted Supreme Court lawyer Ram Jethmalani backed by ruling RJD and RJD chief Lalu Prasad's daughter Misa Bharti were among five candidates declared elected unopposed for Rajya Sabha in Bihar.