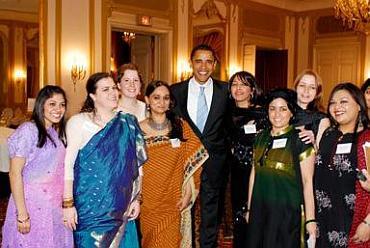 Shyam Benegal, whose films like
Ankur
,
Bhumika
and
Mandi
have celebrated women trying to take control of their destinies, delivered the keynote speech at the 20th anniversary gala of Apna Ghar on November 14.
Chicago's Apna Ghar, the first South Asian organization in the United States to provide a transitional home and shelter, built at a cost of $1 million, also provides a 24-hour crisis line, clinical counselling, art therapy, legal advocacy, supervised child visitation and prevention, and education and outreach services. The organisation's activities embrace the elderly South Asians who are either abused by their children or face the risk of abuse and neglect. About seven years ago, Apna Ghar started the South Asian Seniors Home of Peace, offering recreation and empowerment programs.

Apna Ghar's success in getting religious organizations to support the cause of abused women led Harvard College student Tonushree Jaggi to write a research paper: Apna Ghar: Domestic Violence and Reaching Out to Chicago's Faith Communities.
Initially, Apna Ghar was composed of five women; three from Chicago's Asian Human Services Organization--Prem Sharma, Kanta Khipple and Lee Maglaya-- along with friends Ranjana Bhargava and Mohini Pai. Activists, professionals, and leaders, they began to look at the increasing violence against women in South Asian communities including Indians.

In the late 1980s, hotline calls revealed a high incidence of domestic violence, abandonment, child abuse and neglect, sexual and criminal assault among the growing South Asian population in metropolitan Chicago, the Apna Ghar founders recall.
'Because of cultural differences… Asian-American women were reluctant to seek help from existing shelters and social service organisations,' the women said in a joint statement.
When they decided to start Apna Ghar, they met with hostility from Indians and other South Asians as well as indifference and apathy from religious organizations. Some men accused the women--as was the experience of other organisations for women like Sakhi in New York and Maitri in California--of creating friction.
The turning point came nearly nine years after the organisation was founded and dozens of women had availed its services. The murder of Pakistani-American Shahpara Sayeed, who had come to America in 1999 to be with her husband and children, shook the South Asian community. Shahpara's husband Mohammed Haroon, a taxi driver in the Chicago area, doused her in gasoline, locked her in his taxi, and burned her alive in daylight on a busy avenue. Haroon died of AIDS-related complications before he could be tried.
Shahpara's murder, Jaggi wrote, 'sparked a massive community response that included Chicago's Muslim leaders. People held rallies, vigils, and even a Unity Walk Against Violence, that was co-sponsored by Apna Ghar.'
Apna Ghar wrote to religious and community organisations, inviting them to a roundtable. Some Indian community leaders argued that the tragedy had happened in another community, But by then stories of violence in the Indian communities across North America were making headlines.
The roundtable had representatives of the Hindu Temple in Lemont, the Sikh Religious Society of Chicago (Palatine Gurdwara), the Muslim Community Center, and the Marthoma Church of Des Plaines.
Usha Wasan, a board member of Apna Ghar as well as an active member of the Lemont Temple, convinced the temple to allow Apna Ghar to have a table and booth at their annual Greesham Mela, Jaggi noted. The Muslim Community Center began giving 'substantial donations' to Apna Ghar in support of their Muslim clients who needed to get back on their feet.

Khipple helped organize anti-domestic violence educational and awareness-building events at the Palatine Gurdwara.
In 1991, Apna Ghar opened the Supervised Visitation and Safe Exchange Center, funded by the Chicago Department of Human Services. The Center provides a free, safe place where children can interact with their non-custodial parent in the presence of a trained facilitator.
Over the years, Apna Ghar's galas and fundraisers have drawn eminent people as keynote speakers or guests, including then US senator Barack Obama, feminist Gloria Steinem, activist and dancer Mallika Sarabhai and the Bollywood activist couple Shabana Azmi and Javed Akhtar.
The November 14 fund raising gala honoured professor and activist Margaret Abraham, whose 1999 book Speaking the Unspeakable: Marital Violence among South Asian Immigrants in the United States is still hailed as the first comprehensive account of the South Asian experience with domestic violence. 

Image: File photo of then US Senator Barack Obama at the Apna Ghar gala.