Chhattisgarh Chief Minister Bhupesh Baghel was prevented from coming out of Lucknow airport on Tuesday when he arrived to meet party leader Priyanka Gandhi Vadra, who was detained in Sitapur on her way to Lakhimpur Kheri.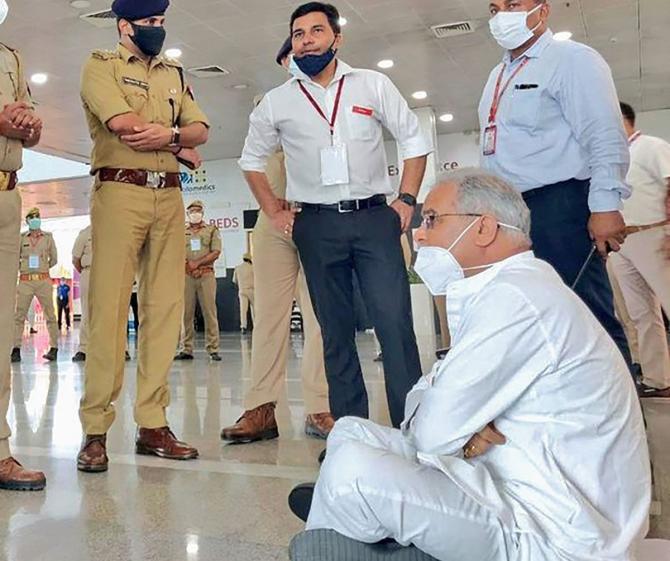 Baghel staged a sit-in at the airport after being stopped by the police from stepping out.
"Why am I being stopped? I am not going to Lakhimpur where prohibitory orders are in place. I am only going to the Uttar Pradesh Congress office," he told police.
Holding a virtual press conference from the airport, he said, "The truth of Lakhimpur will come to light one day, it cannot be kept hidden forever. Those who speak in a language warning the farmers to mend their ways will have to be dismissed, and his son, who trampled the farmers, will have to go behind the bars."
Baghel was referring to a recent video purportedly showing Union Minister of State for Home Ajay Mishra remarking: 'Sudhar jao nahin to sudhar dunga (mend your ways or will set you right)'.
The Union minister's son has been accused of hitting farmers with his vehicle in Lakhimpur Kheri.
The UP Police has lodged a case against Ajay Mishra's son Ashish but no arrest has been made so far.
The MoS Home has, however, claimed that neither his son nor he was present at the site when the violence in Lakhimpur Kheri erupted on Sunday that led to the death of eight people, including four farmers.
Interacting with reporters virtually from the Chaudhary Charan Singh Airport, Baghel, a senior Congress observer for the UP Assembly polls next year, said his destination is not Lakhimpur Kheri but the Congress office where he was scheduled to address a press conference.
The Chhattisgarh CM also said he has come to meet Congress general secretary Priyanka Gandhi Vadra, who has been detained in Sitapur.
Replying to reporters' questions, Baghel claimed, "It is unfortunate that when the Amrit Mahotsav is being celebrated, farmers are being killed by those in power."
"They are not being arrested, while those who want to wipe the tears of the oppressed and seek justice for them are arrested," he said referring to Priyanka Gandhi and other Congress leaders' detention in Sitapur.
"Anything is possible in the Yogi Adityanath government. The way opposition leaders are being stopped from going to Lakhimpur Kheri goes on to show that this is being done out of fear of defeat, to hide something and also to save certain people."
Asked about the Lakhimpur incident finding no mention in the speech of Prime Minister Narendra Modi who was in Lucknow for 'New Urban India Conclave', Baghel accused the BJP of 'adopting the oppressive tactics of the British'.
"They (BJP) have been anti-farmer from the very beginning and will not utter a single word for them," he alleged.
"An FIR has been filed against the son of (Union) minister (Ajay Mishra). The minister is claiming that his son was not there. It is a request to the PM that the minister be dismissed his son arrested," Baghel said.
The Congress leader also demanded a probe into the Lakhimpur Kheri incident by a sitting Supreme Court judge, Rs 1 crore compensation and a government job for the victims and the release of all Congress leaders there.
The Uttar Pradesh government had Monday asked the Lucknow airport authority not to allow Chhattisgarh chief minister and the Punjab deputy chief minister who were to visit Lakhimpur Kheri following the violence that erupted there.
Eight people were killed Sunday as violence erupted during a farmers' protest claiming the lives of both farmers and BJP workers ahead of a visit to Lakhimpur by Uttar Pradesh Deputy Chief Minister Keshav Prasad Maurya.
'After the incident in Lakhimpur, the district magistrate has imposed prohibitory orders there to maintain law and order. It is requested that you should not allow Chhattisgarh CM and Punjab deputy CM at the CCS Airport in Lucknow,' Additional Chief Secretary, Home, Awanish Kumar Awasthi had said in a letter dated October 3 to the Airport Authority of India.