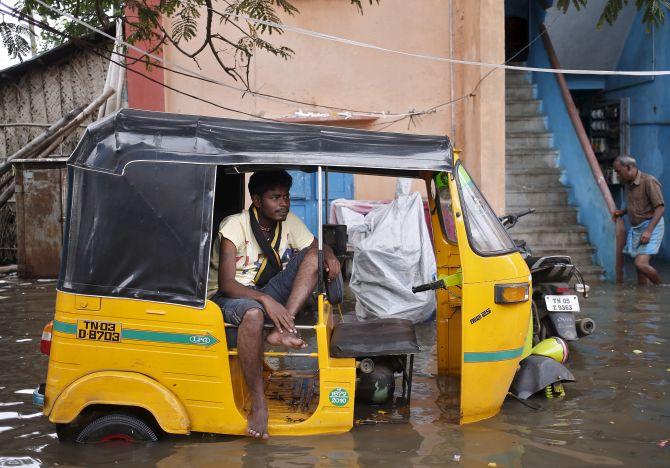 In the midst of a disastrous flood, Chennai saw another tragedy as 18 patients in an ICU died after a power outage at a hospital allegedly cut off oxygen supply to ventilators.
Over the past several days when rains ravaged the city, Madras Institute of Orthopaedics and Traumatology, a well known private hospital on the banks of the Adyar river in Manapakkam witnessed flooding in parts of its premises.
As there was no electricity, the hospital was run on a generator.
Speaking to reporters, some relatives of those dead alleged that those on life support like ventilator and oxygen could not be continuously given such backup as the generator room was flooded.
The private health authorities remained inaccessible.
"Out of 75 ICU patients in that hospital, 57 ventilator patients were moved out. The remaining patients died over the past two three days. Let us not jump the gun to say that the patients died due to power failure," said Tamil Nadu Health Secretary J Radhakrishnan.
He said, however, the government was probing the issue.
To another question, he said, "If it was so all the ICU patients would have died. Over 575 patients have been moved out of that hospital," he said acknowledging that there was flooding and power cut in that particular hospital.
"All government hospitals were up and running. We are taking patients from all hospitals on need basis," he said.
Patients needing support are being shifted to large state-run hospitals with facilities, he said.
"Ninety-two additional mobile medical teams have been dispatched across the city for such purposes," he said.
The health secretary said that he along with the health minister visited another private hospital, which is also flooded, and shifted babies on ventilator to a government facility.
"Let us not unnecessarily create panic. But we will also go through records," he said.
Image: A man sits in an auto-rickshaw in a flooded area in Chennai. Photograph: Anindito Mukherjee/Reuters