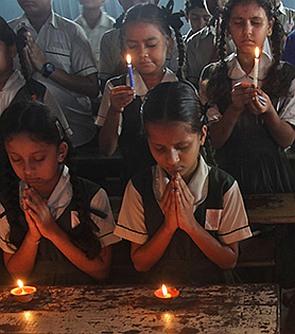 A Kendriya Vidyalaya school in Chennai has been provided police security after it received an anonymous letter today threatening that a bomb would be hurled inside if 'Sanskrit Week' celebrations are held.
"It is an anonymous letter and a probe is on. Adequate security has been deployed in the area," Deputy Commissioner of Police, St Thomas Mount, P Saravanan told PTI.
Following receipt of the letter, authorities of the school at Palavanthangal near the airport lodged a police complaint.

"If you celebrate Sanskrit week, a bomb will be hurled in your school," the letter signed by one "Dravidan", said.
Police said the name appeared to be fictitious.

The Central Board of Secondary Education in a circular had directed all schools under its ambit to celebrate Sanskrit Week between August 7 and 13.
It had said the objective was to provide an opportunity to schools, teachers and students to share their knowledge of Sanskrit and learn it from each other.
However, the move had evoked a strong reaction in Tamil Nadu, with Chief Minister Jayalalithaa, as also all other political parties, opposing it.