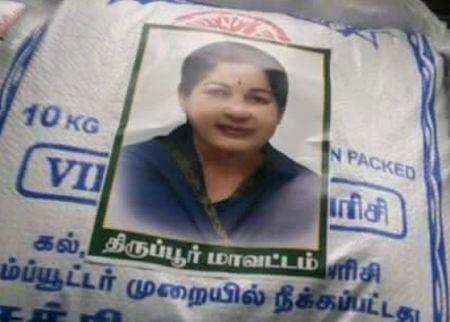 While people in Chennai continue to battle the floods and the devastation that comes with it, the state government has suddenly caught everybody's attention and for all the wrong reasons.
A day after a poster stated that Tamil Nadu Chief Minister J Jayalalithaa 'single-handedly saved Chennai from drowning', several people on Twitter have alleged that relief materials are being allowed in certain areas only when they carry a mandatory sticker with Amma's face.
They have shared images of All India Anna Dravida Munnetra Kazagham volunteers sticking such posters and fliers on relief packets to be distributed to the stranded people in Chennai, Cuddalore and other places.
"Six trucks coming from Coimbatore. Stopped at Sriperumbudur. And Amma stickers stuck on every pack and sent in. This is absolutely ridiculous," Vinod Dwarkani, a rescue worker, rued on Facebook.
Several people posted scathing comments on social media to register their anger.
Heavy rains battered the city again on Friday evening just as life began to limp to normalcy amid persisting power cuts and food shortages in Chennai and three other Tamil Nadu districts where floods and downpour have claimed 325 lives.
Image: A relief package bearing the image of Jayalalithaa being distributed in flood-hit Chennai.