In signs of easing of situation, the water levels of Adyar and Kumbh rivers have fallen considerably following reduced discharge from reservoirs like Chembarampakkam, Madurantakam and Puzhal lakes late on Thursday night.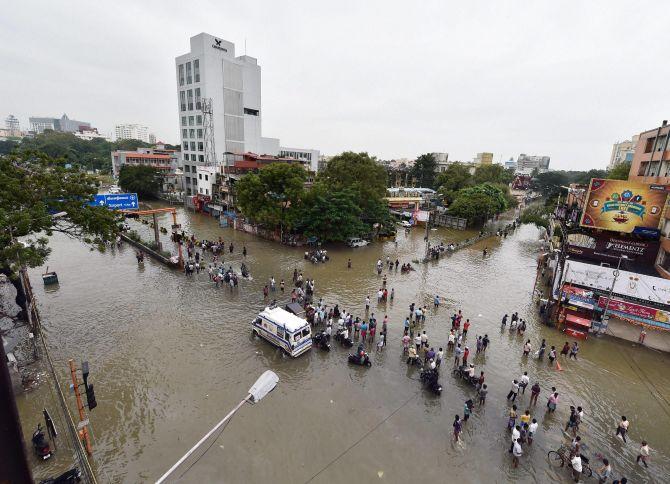 Water levels of Adyar and Kumbh rivers fell considerably on Thursday. Photograph: PTI
Officials said that from a discharge of 30,000 cusecs of water from Chembarampakkam, one of the key sources of drinking water supply to Chennai city, it has come down to 13,000 cusecs in the afternoon and 5,000 cusecs at night after there were no fresh rains on Thursday.
Similarly, there has been considerable decline in discharge of water from Puzhal, Pondi and Madurantakam lakes among others.
In the last two days, the Adyar river that disgorges into the sea was in spate following surplussing of ChembarampakkamLake that had received considerable amount of water from torrential rains in catchment areas in Kancheepuram district.
The considerable reduction in water levels of Adyar and Kumbh rivers are likely to ease the situation in the city where flood waters are also likely to recede.
The Adyar river on Wednesday overflowed the Saidapet bridge that completely stopped traffic on the Mount Road. But a part of the road was opened to traffic on Thursday.