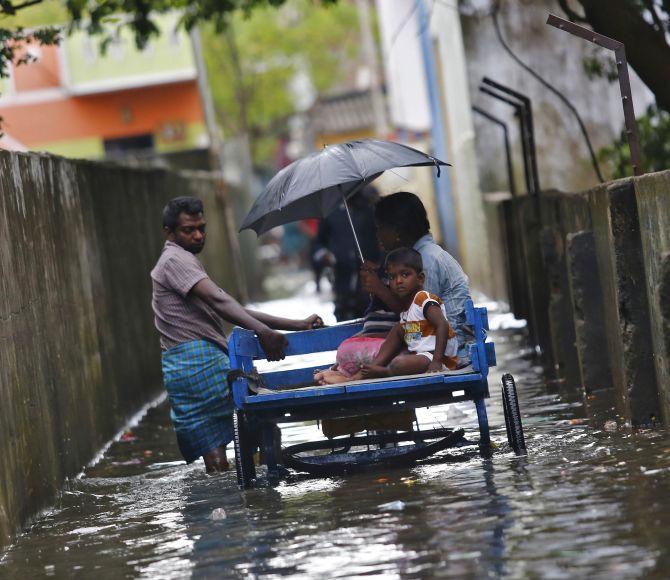 Dubbing the devastation due to floods in Chennai as the 'rarest of the rare' natural calamity, the Tamil Nadu government dismissed the reports that the flood in Adyar river was the result of improper management of water releases from Chembarambakkam tank.
According to the statement by Tamil Nadu government's chief secretary, sufficient warnings were given to people residing in the vicinity of the river before water from Chembarambakkam tank was released.
"The water level in the tank on November 1 was 5.08 ft. with a storage of 228 mcft. The rainfall in November 2015 in Chennai was 1,018 mm, which is the highest rainfall in November since 1918. All the tanks in the Adyar catchment reached full capacity and the surplus water flowed into the Adyar river," the statement said.
"On account of heavy rains in the month of November, Chembarambakkam tank had copious inflows of water in the middle of November. Eighteen thousand cusecs was discharged into the Adyar river on November 17 keeping the level of the tank at 22.3 feet for further inflow during the monsoon period as per the Rules for Flood Regulation of the Compendium of Rules of Regulation," it added.
The statement further said that when rains lashed Chennai in December, the engineers in charge of the tank closely monitored the inflows and the rainfall in the upstream catchment area and accordingly regulated the discharge from the tank for the purpose of ensuring the safety of the tank.
In Chennai, much of the fury was unleashed by the Adyar river.
Meanwhile, schools and colleges which were closed for almost a month in Chennai, Tiruvallur, Kanchipuarm and Cuddalore reopened on Monday.
Currently, 23,000 cusecs of water is flowing into Sri Vaikuntam Dam and only if the inflow increases to 50,000 cusecs will there be flooding of the Thamaraparani river.
In Thootthukudi, three National Disaster Response Force and army teams are still deployed to face any emergency situation that arises.
Image: A man carries his family on a rickshaw cart as he wades through a flooded street in Chennai. Photograph: Anindito Mukherjee/Reuters