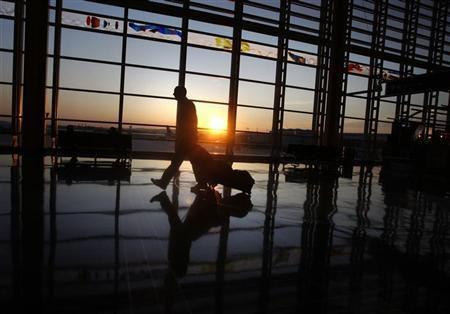 Chennai airport will remain shut till December 6 in the wake of battering rains that have left the facility unusable, Airports Authority of India announced on Wednesday.
The AAI's decision also follows prediction by the IMD that there will be rains for next 72 hours over Chennai and suburbs with the next 48 hours being "very crucial."
"Chennai Aerodrome has been closed up to 12 noon of the December 6, 2015. The situation is being closely monitored and any further action will be taken subject to review for resumption of services as soon as possible," the AAI, which runs the airport, said in statement on Wednesday.
Flight services from Chennai airport were suspended on Tuesday initially for three hours after water level on the taxiways rose to about two feet and later AAI decided to extend it to 6am on Thursday morning after reviewing the situation.
90 passengers have been sent to Bangalore by buses and 200 passengers transferred to the city, it said.
Earlier in the day, AAI chairman R K Srivastava said that 3,500 persons, including 1,500 passengers, were stranded at ChennaiAirport in the morning and all of them were expected to be evacuated soon.
"AAI has arranged six buses to evacuate the passengers from the airport," Srivastava said.
He also said 66 arrivals and 53 departures were cancelled since 2,000 hours on Tuesday.
AAI, in the statement issued in evening, also said that during the closure, 12 domestic and 12 international arrivals were diverted since Tuesday.
As many as 34 aircraft are stranded at the airport, AAI said adding all international and domestic flights to and from Chennai were cancelled.
According to the statement, the situation deteriorated at six am on Wednesday, leading to submerging of the entire operational area in approximately seven feet of water.
All incoming flights were diverted to alternative places except one international flight which was cleared due to medical emergency, AAI said.
The navigational aids within the airfield have been switched off, due to heavy waterlogging, it said adding however, the secondary surveillance radar is available and the services to overflying traffic are not affected.
AAI has established emergency contact and people can reach terminal manager at Chennai for assistance at +91 44 22563100 and +91 8056220066, the statement said.