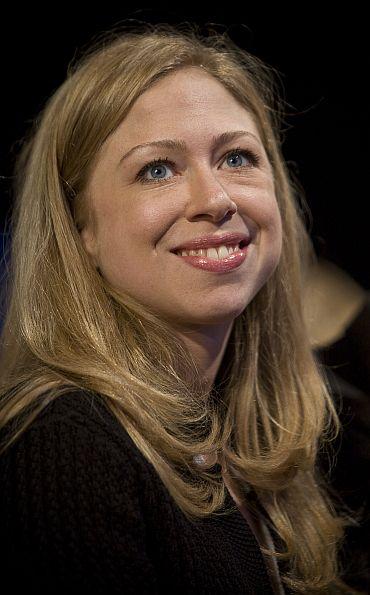 Chelsea Clinton, the daughter of former US President Bill Clinton and Secretary of State Hillary Hillary Clinton, has been roped-in by NBC News as a full-time special correspondent.
Chelsea, 31, will start her new gig as special correspondent for "NBC Nightly News" as well as "Rock Center with Brian Williams" on Monday, where she will be contributing to the news programs' "Making a Difference" segments.
These segments profile people and organisations dedicated to public service and volunteer work. Chelsea will become the second daughter of a president hired by NBC News, and the third daughter of a recent presidential candidate.
Jenna Bush Hager, daughter of President George W. Bush, works as a correspondent for NBC's "Today" show, and Meghan McCain, daughter of John McCain, is a contributor to MSNBC.
She has been a national figure since her father won the presidency in 1992, but she has remained first by her parents' request and then by her own choice largely out of the public eye.
NBC said Chelsea's dedication to public service, solution-based advocacy and focus on empowering people around the globe make her a perfect fit for the show.
"Chelsea is a remarkable woman who will be a great addition to NBC News. Given her vast experiences, it's as though Chelsea has been preparing for this opportunity her entire life," said Steve Capus, president of NBC News.
"We are proud she will be bringing her considerable, unique talents and dedication to NBC News." Capus said he had met with Chelsea and had a long conversation that began with a simple question.
"I asked her: 'What are you interested in doing?'" Chelsea told him, he said, that during her mother's campaign for president in 2008, she had been moved by stories of people making personal contributions.
"What we talked about was if she were to come on board that's the kind of thing she would be interested in doing. We knew she wasn't going to do the lead story. But having somebody who was going to do really captivating feature assignments for the 'Making a Difference' franchise really kind of synced up," The New York Times quoted Capus as saying.
He added, "She wants to be in the field for the shoot and in the edit room for the edit." (more) PTI YAS AKJ NSA 11150025 NNNN
An alumnus of Stanford, Oxford and Columbia Universities, Chelsea has worked at financial giants like McKinsey. She is currently pursuing a doctorate at Oxford, working at New York University and working with the Clinton Foundation and the Clinton Global Initiative.
Her recent professional and academic work, including her academic publications, have focused on how to improve access to relatively low-cost, high-quality health care services around the world and empowerment and equal rights.
She currently serves on the boards of the Clinton Foundation, the School of American Ballet and the Weill Cornell Medical College. She and her husband Marc live in New York City.