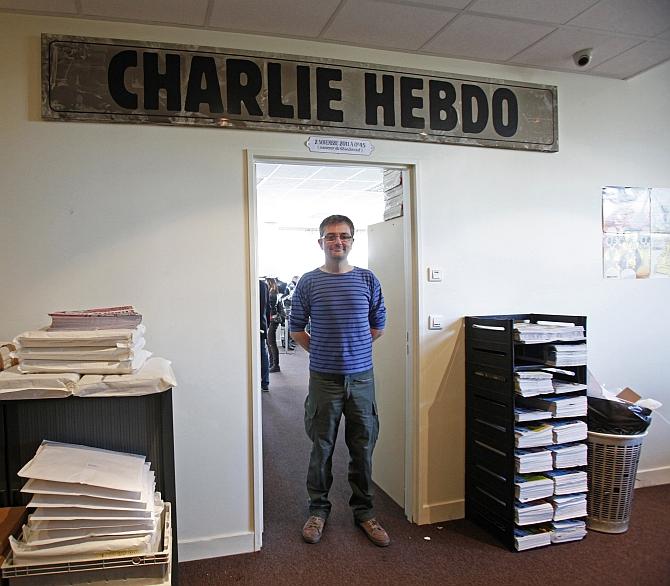 File photo of French cartoonist Charb, publishing director of French satirical weekly Charlie Hebdo, posing for photographs at their offices in Paris. Photograph: Jacky Naegelen/Reuters
Stephane Charbonnier once said, "A drawing has never killed anyone."
On Wednesday, the Charlie Hebdo editor-in-chief was proved fatally wrong when gumen riddled the French satirical magazine's office with Kalashnikov fire killing him and 11 others.
Threats were a constant companion for those working at Charlie Hebdo. The magazine's controversial cartoons took a below-the-belt jab at every religion, more so against the Islamic faith in the recent decade.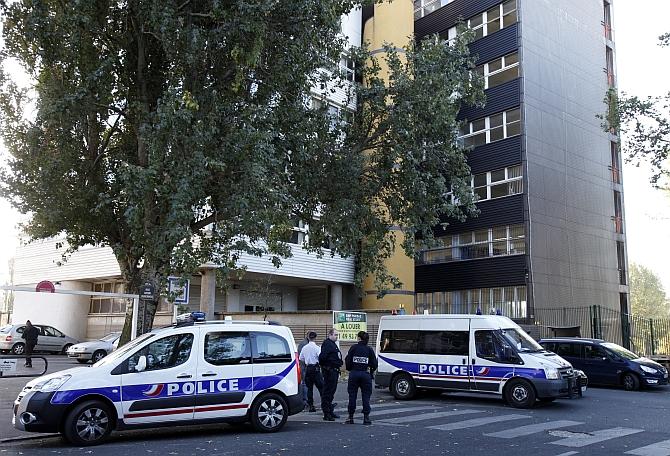 French police cars are parked in front of satirical weekly Charlie Hebdo offices in Paris. Photograph: Jacky Naegelen/Reuters
The magazine first courted trouble when it reprinted of cartoons depicting Prophet Muhammad that had originally appeared in a Danish daily, Jyllands-Posten.
The cartoons triggered protests across the Middle East and rest of the Muslim world.
But refusing to buckle down, Charbonnier shot back: "Mohammad isn't sacred to me. I don't blame Muslims for not laughing at our drawings. I live under French law. I don't live under Quranic law."
Two French Muslim groups then took Charlie Hebdo to court. However, the law sided with the limited-circulation magazine and ruled that the 'cartoons were covered by the freedom of expression laws and were not an attack on Islam, but fundamentalists.'
Instantly, Charbonnier found himself on the hit-list of terror outfits. He was also pictured in the Al Qaeda magazine Inspire on a list of nine men that the outfit was targetting, along with the caption 'a bullet a day keeps the infidel away'.
Since then Charbonnier had been under police protection; a riot-control van was stationed outside the magazine's office at all times.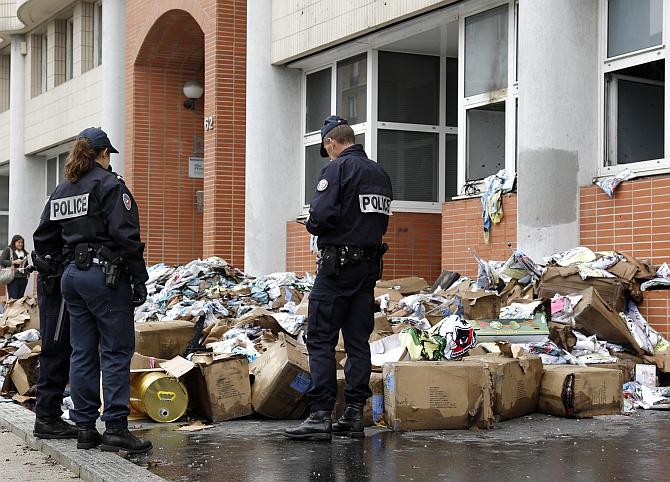 French police stand in front of the damaged offices of French satirical magazine Charlie Hebdo in Paris November 2, 2011. The attack took place after the magazine published an edition it said was guest-edited by the Prophet Mohammed renamed "Charia Hebdo", in a reference to Sharia law, media reported. Photograph: Benoit Tessier/Reuters
Emboldened by the court ruling in its favour, Charlie Hebdo started posting a steady stream of provocative cartoons.
On November 2, 2011, Charlie Hebdo's offices were firebombed and destroyed the day after the magazine announced Prophet Mohammed as its "editor-in-chief" for its next issue. The cover also carried a highly controversial caricature of the Prophet.
Nobody was injured in the early morning assault.
Charbonnier was then quoted by the BBC as saying, "If we can poke fun at everything in France, if we can talk about anything in France apart from Islam or the consequences of Islamism, that is annoying."
"We are only criticizing one particular form of extremist Islam, albeit in a peculiar and satirically exaggerated form. We are not responsible for the excesses that happen elsewhere, just because we practice our right to freedom of expression within the legal limits," he told German publication Der Spiegel.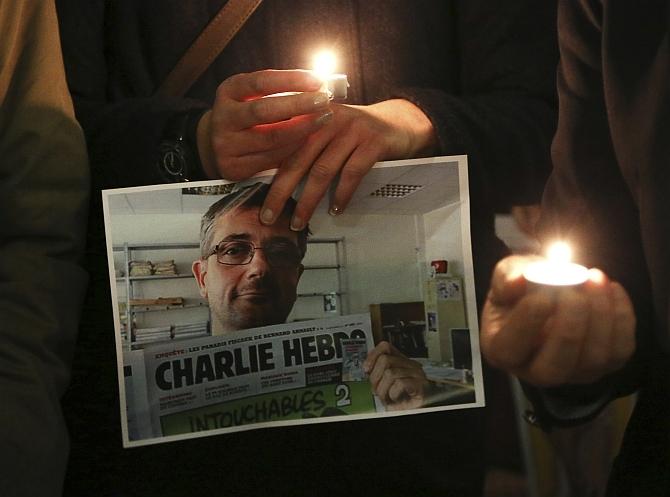 People hold candles as they pay tribute to the victims of Wednesday's terrorist attack. Photograph: Francois Lenoir/Reuters
The following year saw more provocative cartoons of Prophet Mohammad being published.
The US government expressed concern at the publication of the cartoons.
"We don't question the right of something like this to be published, we just question the judgment behind the decision to publish it," White House spokesman Jay Carney had then said.
On Wednesday, just hours before the attack, the paper sent out a tweet of a cartoon depicting Islamic State leader Abu Bakr al-Baghdadi with the message: "Meilleurs veux, au fait." (Best wishes, by the way.)