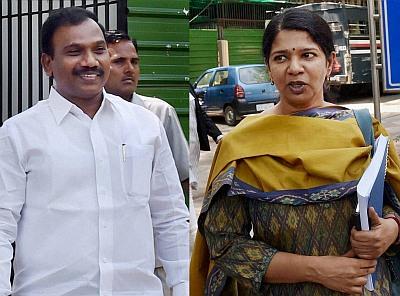 Former Telecom Minister A Raja was in "connivance" with MP Kanimozhi, Dravid Munnetra Kazagham supremo M Karunanidhi's wife Dayalu Ammal and other co-accused in "parking" of illegal gratification of Rs 200 crore in Kalaignar TV, a special court on Friday said and put them on trial on money laundering charges.
If convicted, Raja and others will face a maximum sentence of up to seven years.
This is the second case in the 2G spectrum allocation scam in which Raja, Kanimozhi and others, including Swan Telecom promoters Shahid Usman Balwa and Vinod Goenka, will face trial for their alleged involvement in the scam.
The court on Friday framed charges against 19 accused – 10 individuals and nine companies -- under the provisions of the Prevention of Money Laundering Act and fixed the case for commencement of trial on November 11.
It said there was enough material on record which makes out a "prima facie" case against all the accused who were chargesheeted by the Enforcement Directorate on April 25, for committing an offence punishable under the PMLA.
"Accordingly, I find that there is enough material on record to make out or to presume a prima facie case against each accused for committing an offence of money-laundering as defined under section 3 and punishable under section 4 of the (PML) Act," Special CBI Judge O P Saini said.
Besides Raja, Kanimozhi and Dayalu Ammal, the individual co-accused in the case are Shahid Balwa, Vinod Goenka, Directors of Kusegaon Fruits and Vegetables Pvt Ltd Asif Balwa and Rajiv Agarwal, Kalaignar TV MD Sharad Kumar and its director P Amirtham and Bollywood producer Karim Morani. All of them are out on bail.
The court, in its 208-page order, said, "A Raja in connivance with M K Dayalu, K Kanimozhi and Sharad Kumar, was actually involved in parking the illegal gratification of Rs 200 crore received from Shahid U Balwa and Vinod K Goenka in KTV."
"He (Raja) was also actually involved in the process of refund of the proceeds of crime of Rs 223.55 crore in order to wriggle out of the charges of crime. Thus, Raja has committed the offence of money-laundering as defined under section 3 of the Act," it said.