Once Ram temple is built it will become a 'ghoshit (declared) Hindu Rashtra', a VHP leader told the gathering.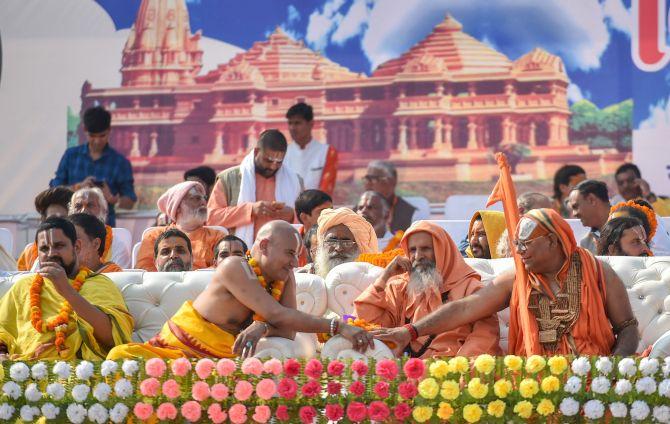 Amidst growing demand for construction of the Ram temple in Ayodhya without further delay, Ramji Das of Nirmohi Akhara told Vishwa Hindu Parishad's Dharam Sabha on Sunday that dates for the same will be announced early next year during Kumbh in Prayagraj.
Addressing the sabha after the inauguration marked by chanting of mantras at the Badey Bhaktmaal ki Bagia, Ramji Das said: "The date for construction of the Ram temple will be declared in the 2019 Kumbh which will be held in Prayagraj."
"It is only a matter of few days, and I request you all to show some patience," the seer remarked.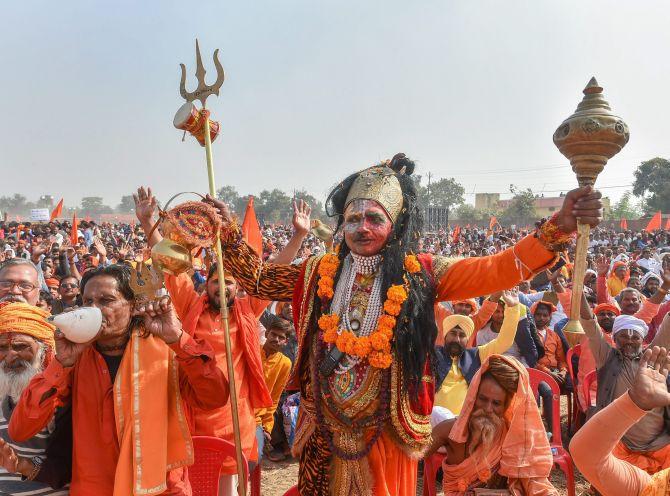 The Dharam Sabha, the biggest congregation of Ram bhakts in the temple town convened to discuss the way forward for temple construction, witnessed seer after seer stressing the need for construction of the temple at the earliest.
Nritya Gopaldas, president of the Ram Janmbhoomi Nyas, in his address said: "Such a large attendance shows that how much people from different walks of life are attached to the Ram temple."
"We respect the courts. We have great hopes from Prime Minister Narendra Modi and UP Chief Minister Yogi Adityanath. I request Adityanath to pave the way for construction of Ram temple," he said making a call to the government to do the needful in this regard at the earliest.
The Dharma Sabha venue , which witnessed saffron hue all the way with flags, banners, buntings and head gear in the same colour, also saw the Ram bhakts taking a pledge for construction of Ram temple, vowing by taking the soil of Ayodhya in their hands.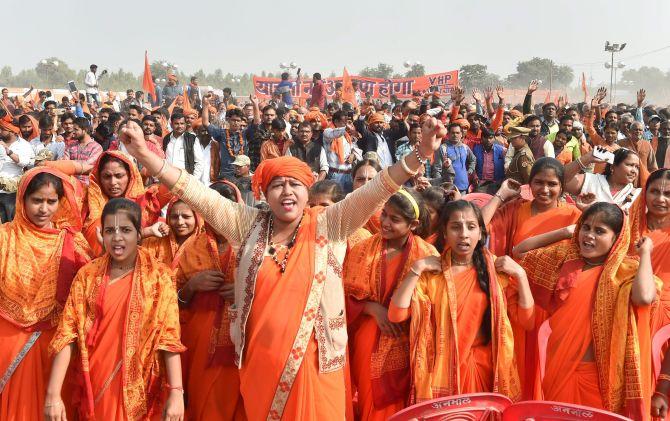 Religious leader Ram Bhadracharya said: "On November 23, I had called a senior Union minister who assured that after the model code of conduct comes to an end on December 11, the PM is likely to sit with them and take such a decision so that Ram temple could be built."
"We were also told we will not be cheated and I feel that ordinance route may be opted in the winter session of Parliament. We should exercise patience... We have been saddened by the court. The court of people will not deceive us," he stressed.
Once Ram temple is built it will become a 'ghoshit (declared) Hindu Rashtra', he told the gathering.
Earlier senior leader Champat Rai declared that no formula dividing the disputed land will be acceptable for temple construction.
"We want the entire land for temple construction ... no formula dividing the land is acceptable."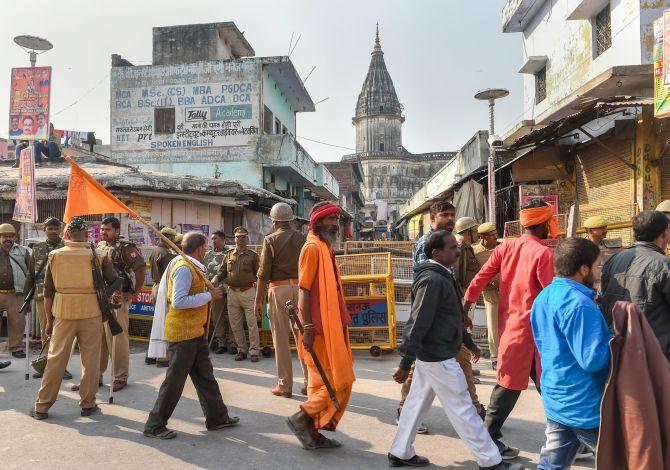 Though Rai did not spell out the details, his assertions are considered to be in reference to the Allahabad high court verdict dividing the land into three parts.
Rai also said that the delay in the temple construction is not a good sign.
The 'Dharam Sabha' is being touted as the largest congregation of 'Ram bhakts' in Ayodhya since the 1992 kar seva.
The congregation on Sunday is being held less than two weeks before the 26th anniversary of the demolition of the 16th century Babri Mosque, that had triggered unrest in this town and riots in other parts of India.
Hordes of activists of both the VHP and the Shiv Sena, who have gathered here from various parts of the country, bear saffron flags and chant 'Jai Shri Ram'. In the background posters with images of Lord Ram and the slogan 'Chalo Ayodhya' dot the roads.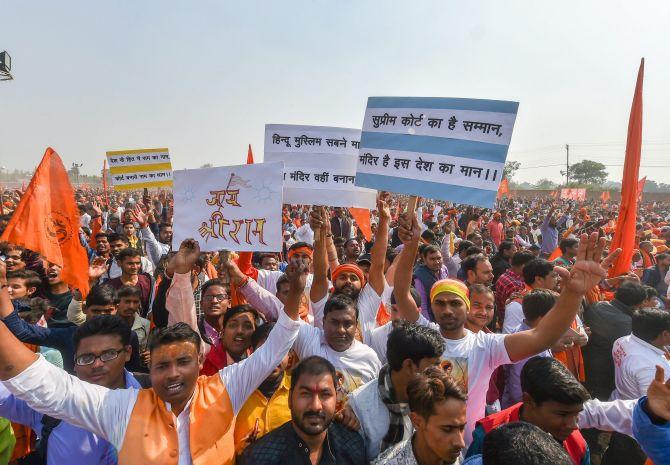 At many places, passers-by can see small trucks carrying projectors and a screen to showcase 'Ramayana', a famous 1986 TV series.
The VHP has claimed that three lakh people, including seers, will attend its 'Dharam Sabha' to be held at Bade Bhakt Mal Ki Baghia, not far from the controversial Ram Janmabhoomi Nyas-run workshop, where work for building a temple has been underway since 1990.
Posters of the VHP mega event and Sena proclaiming 'Chalo Ayodhya' compete with each other to grab eyeballs of residents, even as rhetoric takes centre stage in the pilgrim town. From Ram ki Paidi to main market areas, huge hoardings have been put up, some in front of parks, bus stands and other public places.
Shiv Sena chief Uddhav Thackeray, who arrived here ahead of Sunday's VHP rally for a Ram temple, Saturday asked the Narendra Modi government to wake up from a "Kumbhakarna-like slumber" and declare the date for its construction.
Amid a growing chorus for construction of a Ram Temple, the Sena leader has also urged the government to bring legislation, or an ordinance, for building the temple on the disputed Ramjanmabhoomi-Babri Masjid site in Ayodhya, but he has not linked his own two-day visit to the VHP event.
Haunted by spectre of 1992, some Muslims leave town
The congregation of right-wing activists has triggered the painful memories of the 1992 tragedy among many residents, with a few Muslim families temporarily leaving the town fearing for their safety.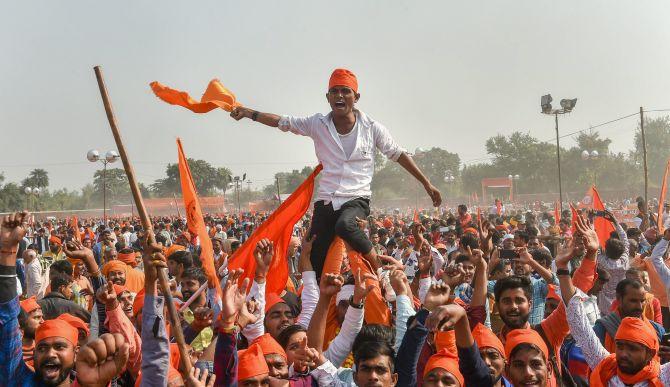 Some Muslim families had left the pilgrim town for good after the large-scale violence that had erupted here post the demolition of the 16th-century Babri Mosque 26 years ago on December 6, and now many others have temporarily left their homes, say local residents.
Despite high security deployment in Ayodhya and the twin town of Faizabad, many families from minority communities have decided to move out, feeling uncomfortable amid the 'din and provocative speeches' surrounding the VHP's 'Dharma Sabha', they said.
The memories of 1992 still haunts many people from both the communities who had directly or indirectly suffered in the violence that had erupted after the Mughal-era mosque was razed by a frenzied army of kar sevaks.
An uneasy calm prevailed in Muslim-dominated areas such as Dharam Kanta, Qaziana and Katra.
"I live here and, many of my Muslim neighbours, who were here till a few days ago, have now left, either to their relatives' places nearby or temporarily shifted to elsewhere, out of Ayodhya," Nisha said, pointing to a locked house in her neighbourhood in the heart of the city.
The situation is similar in Saidwada and Begumpura, and many members of the minority community, who have not left the town, also said that they were feeling a 'sense of unease' seeing so many outsiders whipping up communal frenzy in Ayodhya.
Mohammed Azim, a 46-year-old auto-driver in the city, who bore the brunt of the 1992 tragedy, said, "The communally-charged atmosphere in Ayodhya is reminding me of the painful memories of the tragedy and the violence that had ensued."
"Residents of Ayodhya have always lived in peace, and even after the unfortunate Babri demolition episode, people from both communities are still trying to have an atmosphere of peace. But, then these outsider come to our town and vitiate the atmosphere. So, many have decided to move out temporarily," he said.
Mohammed Muslim, 78, who now drives an e-rickshaw, gets perturbed talking about the 1992 incident, and wished, "Politicians and Hindu-outfits would not whip up communal frenzy. We were unsafe then, and today also we feel insecure with so much of crowd in our town."
"Naturally, Muslims will not feel secure in such a polarised atmosphere, and with many leaders making provocative statements, they do not want to leave things to fate, and thus moved out due to safety reasons.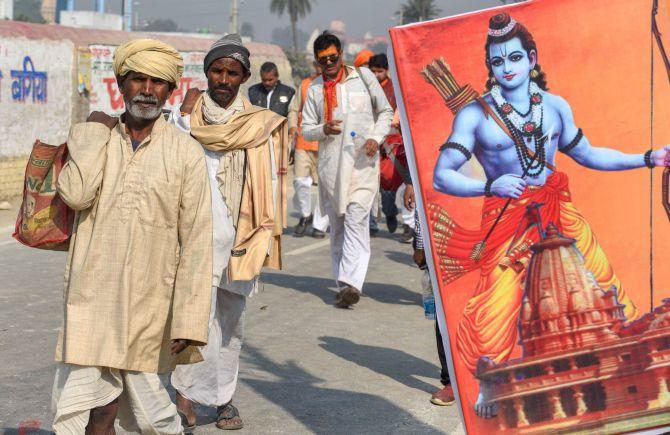 "In Faizabad town, some families have left altogether, while in many cases, women and children have been shifted to relatives' houses in nearby districts," Manzar Mehdi, a local historian told PTI.
Mehdi, a Faizabad resident and also editor of a Faizabad-based bilingual (Hindi and Urdu) publication that promotes communal harmony, said, "Hindus and Muslims have lived and continue to live in peace in Ayodhya. Muslims do not fear for their safety from local Hindus but the outsiders who have gathered here."
Muslim body writes to President, seeks intervention
The All India Muslim Majlis-e-Mushawarat (AIMMM) on Sunday wrote to President Ram Nath Kovind, seeking his urgent intervention into the developments in Ayodhya.
An umbrella body of more than a dozen Muslim religious and social organisations, the AIMMM said in its letter that the presence of 'unruly mobs' in Ayodhya is a clear pointer to the way things are moving in an unchecked manner in Uttar Pradesh.
'If any attempt is made to forcibly change the status quo at the disputed site at Ayodhya, it would tantamount to a gross violation of the orders of the Supreme Court,' AIMMM chief Navid Hamid said in the letter.
It said the lives and safety of thousands of innocent people were at stake and alleged that the Uttar Pradesh government was displaying 'total negligence of its responsibility' to maintain peace in the state.
Hamid said the state government cannot abdicate its constitutional responsibility of protecting all citizens.
Ayodhya build up, an open 'challenge' to court: AIMPLB
Terming 'Dharm Sabha' and visit of Thackerey an open 'challenge' to the Supreme Court, All India Muslim Personal law Board on Sunday said a situation is being created against the Muslims.
"It is not the matter of giving a mosque but its a matter of principle that how many mosques will we have to sacrifice gradually. If we talk to someone, it will withdraw and another one will come.
"Sri Sri Ravishankar had offered that we should construct a big mosque outside Ayodhya. But later he cornered himself. Just imagine, what had happened, we entered into an agreement with him," AIMPLB general secretary Maulana Wali Rehmani said while talking to PTI.
"VHP's dharm sansad and visit of Thackerey and similar such programmes, a situation is being created against Muslims and it's also an open challenge to the judiciary (SC)," he said.