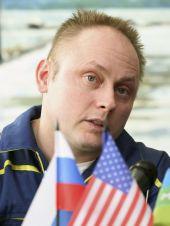 National Aeronautics and Space Administration astronaut Colonel Michael (Mike) Fincke, a veteran of two space expeditions of total duration of over 365 days, on Friday termed the Indian Space Research Organisation's Chandrayaan-1 mission a grand success, despite the abrupt end to the mission due to a technical problem.
During an interaction with a select gathering in Gawahati after ending his 10-day long trip to Northeast India under NASA sponsorship, Fincke said India should be very proud of the immensely resourceful ISRO and Chandrayaan-1.
"It is funny to hear anyone calling Chandrayaan 1 a failure despite the mission
achieving 95 per cent of its goal," said the astronaut, who is married to NASA engineer Renita Saikia, an NRI Assamese.
He added that he hoped for closer coordination between ISRO and NASA in future for making life better for the people on the planet.
Talking about the 2010 Space Expedition of the NASA where he will be a mission specialist, Fincke said, "The mission will try to have an insight to how the universe works and focus on basic physics of certain strange particles in the universe."
He said the human pressure on the planet Earth was alarming and space missions were aimed at opening frontiers for people from the planet to reside outside it.  
Recounting his experience of working with Russian space scientists and astronauts,
Fincke spoke very highly of Russian Space Agency. He said the NASA and the Russian
Space Agency had very good coordination in the space programme despite the political differences between the two countries.
"I am very proud to have worked with Russians. They are great. I have spent so much wonderful time in my career in Russia. I am sure if the US and Russia can work together all other countries in the world can work together," the astronaut said.
During his trip to Assam and Meghalaya in the Northeast since September 2, Fincke has interacted with a large number of students from 84 educational institutions in the region including students from the Indian Institute Technology, Guwahati.
He is taking bags of Assam tea to the US, as he intends to take it to the space on his next expedition, subject to approval from the NASA.
He said he was very fond of Assam tea and delicious Assamese dishes prepared at his in-laws' house. He had taken Assamese 'gamocha' -- a traditional piece of white cloth that is hand woven with a red border and designs on the sides -- to the space in his previous expedition.
Image: NASA astronaut Colonel Michael Fincke | Photograph: Sergei Remezov/ Reuters