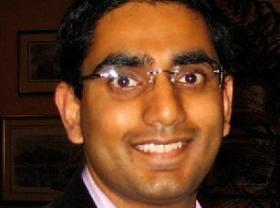 Telugu Desam Party president N Chandrababu Naidu's only son Nara Lokesh will soon follow in his father's footsteps and may contest the 2014 Lok Sabha elections.
Lokesh, who is currently serving as the executive director of the family's Heritage Foods business group, is expected to make a formal announcement about his political debut  soon, sources close to him said.
The 30-year-old MBA from Stanford University is now grooming himself to become an member of Parliament and is searching for a constituency that is predominantly rural, they said.
"Initially, Lokesh wanted to stand for the state assembly and identified a couple of constituencies. But as both his father and father-in-law Nandamuri Balakrishna will be in  the House, Lokesh has decided to contest the 2014 Lok Sabha elections," his close confidante, who did not wish to be named, revealed.
Previously, Chandrababu used to dismiss any talk about his son's political entry but maintain that it was for him to make the choice (between politics and business).
"It is up to him to decide on his political entry. I will not force anything on him," Chandrababu had said.
Lokesh has been managing the TDP's affairs from the backroom since 2009 and aiding his father in all political aspects besides helping his mother Bhuvaneswari in running the family business.
With Chandrababu fully engrossed in his foot march, Lokesh is virtually managing the party affairs from his Heritage office in Hyderabad.
All senior leaders are meeting him on a daily basis and discussing the party affairs. According to them, "Lokesh is now the de facto president." He has emerged as the key advisor to his father and has been designing the TDP's policy papers on different issues.