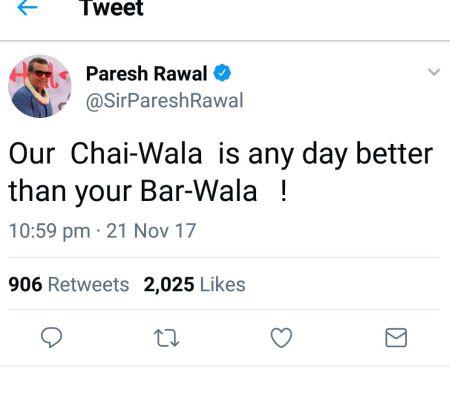 Political drama unfolded late Tuesday night when veteran actor and Bharatiya Janata Party MP Paresh Rawal wrote and deleted a tweet in response to the meme posted by the Congress on Prime Minister Narendra Modi.
In the tweet that is now deleted, he wrote, "Our chai-wala is any day better than your bar-wala!"
The 67-year-old actor-turned-politician was responding to the Indian Youth Congress's online magazine 'Yuva Desh,' where they tweeted a picture of Prime Minister Modi in conversation with United States President Donald Trump and United Kingdom Prime Minister Theresa May.
However, later he issued an apology and wrote, "Deleted the tweet as it's in bad taste and I apologise for hurting feelings."
For the unversed, 'Yuva Desh's meme showed a picture of Modi in conversation with the United States President and UK Prime Minister, asking them if they were aware of the various 'memes' on him, which have been circulated on social media by the Opposition. To which May responds that Modi should stick to just selling tea.
The Congress disapproved and rejected its online magazine's derogatory tweet, saying that the party's culture imbibed respect for the prime minister and all political opponents.
However, the Bharatiya Janata Party refused to accept the apology with Union Ministers Ravi Shankar Prasad, J P Nadda and Piyush Goyal hitting out at the Congress over the post.
"The arrogance of the Congress Party and shameful anti- poor stand gets exposed from the official twitter of the Youth Congress that a person born in poverty in the family of a tea vendor cannot become the Prime Minister. No lessons learnt. Insulting popular mandate. Madam Sonia Gandhi and Mr Rahul Gandhi do you still believe that only you have a divine right to rule India?" Union minister Ravi Shankar Prasad said in a series of tweets.
He said the country expects the two leaders to respond to the meme which is "shameful and insulting" to poor, he said.
-- With inputs from Agencies
Image: A snapshot of Paresh Rawal's now deleted tweet. Rawal apologised for the tweet, saying it was in bad taste.