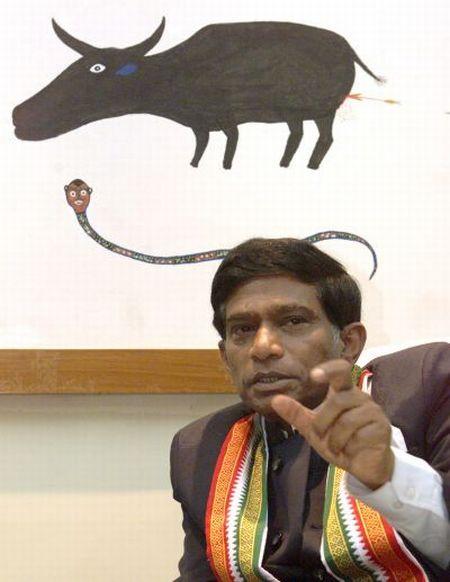 Cracking the whip over alleged "fixing" of a 2014 assembly by poll to ensure the Bharatiya Janata Party's win, Congress on Wednesday expelled former Chhattisgarh chief minister Ajit Jogi's son Amit Jogi from the party for six years and dared Prime Minister Narendra Modi to sack Chief Minister Raman Singh on the same issue.
Congress alleged "Chattisgarh issue revolves around monetary allurement offered by BJP's Chief Minister Raman Singh to Congress candidate for withdrawing from his candidature" and added "Modiji's solemn promise to people was 'zero tolerance for corruption' and 'Na Khaoonga Na Khane Doonga'.
"Congress Party has taken action against one of its leaders. Will Modiji now show the courage of his conviction by seeking Raman Singh's resignation or sacking him?," All India Congress Committee Communication Department Chairman Randeep Surjewala said in a statement.
Reiterating the party's demand for a thorough probe into the matter, Surjewala asked "will the PM now order a fair probe through a Supreme Court judge or SIT monitored by the Supreme Court?
"Therein lies the test of truth of promise made by Modiji to people," he said.
His remarks came after Chhattisgarh Pradesh Congress Committee expelled party MLA Amit Jogi and passed a resolution seeking the party high command's nod for showing the doors to his father and the state's former Chief Minister Ajit Jogi over the Antagarh assembly bypoll audio tape row.
The action came days after audio tapes emerged suggesting financial inducements behind the party's candidate withdrawing from an assembly by-election in the state last year.
The purported conversations between key political players of that time also hinted at the role of Ajit Jogi and Amit.
The PCC had asked for an explantion from Amit Jogi after this. In his communique, Amit has denied the allegations.
After the decision to sack him today, Amit said "I am deeply aggrieved by the decision of the President of Pradesh Congress. This is a victory of people with a feudal and landlord mentality. The dalits, the villagers, the suppressed classes of Chhattisgarh have lost the battle."
He said the allegations were not probed and without doing that he was expelled.
"The decision is unwise, partial and unjust. I am not going to be scared by such a decision." he said.