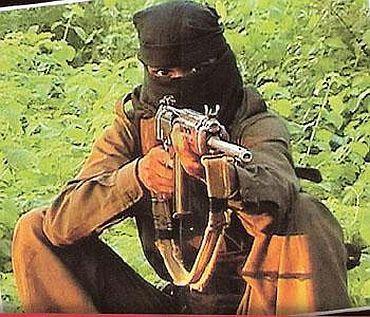 Senior leader Mahendra Karma who was killed in a Naxal attack in Chhattisgarh's Jagdalpur district was guarded by at least 30 police personnel, says Vicky Nanjappa
It was a deadly landmine blast that finally helped the Naxals carry out the ambush that killed senior Congress leader and Salwa Judum founder Mahendra Karma, and critically injured former Union minister V C Shukla.
The Congress and the Bharatiya Janata Party are at a war of words over the security arrangements of the convoy. However, the fact is that Karma, had Z-Plus security, which meant that he was guarded by at least 30 police personnel.
Sources tell rediff.com that he was the primary target for the Naxals. The message regarding a Naxal attack had not reached the Congress workers who were taking out a rally.
The sheer magnitude of the landmine blast threw the entire rally off-guard and even before the police personnel could react, they were fired upon by around150 Naxals who came well-prepared. The firing was indiscriminate in nature, and once they spotted Karma, they first captured him, and later are said to have shot him at least 20 times.
The Naxals are believed to have taken more than five persons hostage. The others who were killed in the attack died due to the indiscriminate firing.
Sources point out that the Naxals clearly outnumbered the police personnel who were accompanying the rally. Although, the Congress has accused the BJP of not providing enough security for their rally, it is said in police circles that the plan was to attack the Congress leaders only.