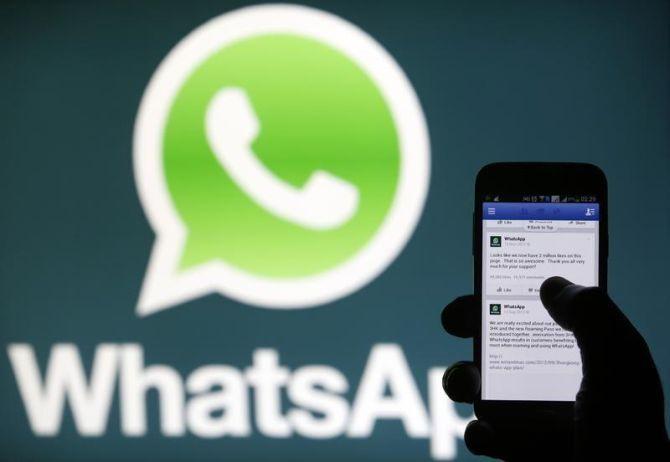 The government Tuesday directed WhatsApp to take urgent steps to prevent spread of 'irresponsible and explosive messages' through its platform amid recent cases of lynching provoked by posts circulated on popular messaging apps.
Conveying its deep disapproval to the top brass of WhatsApp, the Ministry of Electronics and IT (MEITY) stated that the Facebook-owned company 'cannot evade accountability and responsibility', according to an official statement.
The warning to WhatsApp comes in the wake of a spate of incidents involving lynching of innocent people because of certain 'fake and motivated' messages being circulated on the widely used messaging app.
WhatsApp said it would be instituting awards for research on 'spread of misinformation' on its platform.
"WhatsApp cares deeply about the safety of our users. Through this new project, we look forward to working with leading academic experts in India to learn more about how online platforms are used to spread misinformation," a WhatsApp spokesperson told PTI.
The spokesperson said the this local research would help the company build upon recent changes it has made within WhatsApp and support broad education to help people spot false news and hoaxes.
In a blog post, the company said WhatsApp Research Awards would provide funding for independent research proposals that are designed to be shared with WhatsApp, Facebook, and wider scholarly and policy communities.
These 'unrestricted monetary awards' would offer investigators the freedom to deepen and extend their existing research portfolio, it added.
Terming the 'unfortunate killings' in states like Assam, Maharashtra, Karnataka, Tripura and West Bengal as 'deeply painful and regrettable', the IT Ministry said the abuse of platforms like WhatsApp 'for repeated circulation of such provocative content' is a matter of deep concern.
'MEITY has taken serious note of these irresponsible messages and their circulation in such platforms. Deep disapproval of such developments has been conveyed to the senior management of the WhatsApp and they have been advised that necessary remedial measures should be taken to prevent proliferation of these fake and at times motivated/ sensational messages,' the statement said.
The government directed the company to immediately contain the spread of such messages through application of appropriate technology, even as law and order machinery takes steps to apprehend the culprits.
Noting that miscreants were repeatedly circulating provocative messages triggering a spate of violence, it said the government has 'conveyed in no uncertain terms that WhatsApp must take immediate action to end this menace and ensure that their platform is not used for such malafide activities'.
Over the past few months, there have been a number of instances where mobs were instigated by fake WhatsApp messages.
One such incident took place in a village in Dhule district of Maharashtra, where five people were lynched to death by villagers who reportedly suspected them of being child-lifters.
According to police, there had been rumours that a gang of child lifters was active in the area.
India is the largest base for WhatsApp that has over 1.5 billion users globally. It has over 200 million users in India.
With respect to research on 'spread of misinformation', WhatsApp said one of the focus areas would be election-related information.
This assumes significance as general elections are slated to be held next year in India and there are concerns that misinformation and hate speech could be circulated for political gains.
The company said it welcomes proposals that 'examine how political actors are leveraging WhatsApp to organise and potentially influence elections in their constituencies'.
'WhatsApp is a powerful medium for political actors to connect and communicate with their constituents. However, it can also be misused to share inaccurate or inflammatory political content,' it said.
Further, the company said it is interested in understanding this space, both from the perspective of political actors and the voter base.
Another priority area for WhatsApp would be interested in detection of problematic behaviour within its encrypted systems.
While WhatsApp's end-to-end encrypted system facilitates privacy and security for all its users, the same could also be misused by those indulging in illegal activities.
'How might we detect illegal activity without monitoring the content of all our users? We are particularly interested in understanding and deterring activities that facilitate the distribution of verifiably false information,' the company said.
WhatsApp has been taking a number of steps to address the issue of misinformation, including marking forwarded messages.