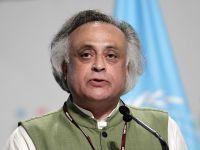 Rural Development Minister Jairam Ramesh on Thursday met Jan Satyagrah activists and agreed to their demands for framing a National Land Reforms Policy, defusing a crisis that could have been triggered by their march to the national capital.
The march, which started on October 2 from Gwalior, was discontinued after Ramesh signed an agreement with Jan Satyagrah leader P V Rajagopal for brining in land reforms and addressing the issues of the landless poor in the country.
"If we are unable to present draft of the policy then Mr Rajagopal has every right to restart his agitation," Ramesh said.
The government was "committed" to bring the draft of the policy within the time frame, he said while addressing thousands of landless poor here.
"If nothing happens in six months, we will assemble here in Agra and march to Delhi," Rajagopal said.
A task force will be set up under the rural development minister to take the process forward and the first meeting will be held on October 17.
"While land reforms is clearly a state subject under the Constitution, the Rural Development Ministry acknowledges that a National Land Reforms Policy announced by the central government could have its own importance.
"The MoRD will initiate a dialogue with states immediately and put out a draft of this policy for public debate and discussion in the next four to six months and to be finalised soon thereafter," the agreement said.
The government also agreed to the demand for setting up Fast Track Land Tribunals for speedy disposal of the cases pending in revenue and judicial courts.
"Legal aid will be extended to all the persons belonging to socially deprived sections, whose lands are involved in litigation, particularly dalits and tribal communities," the agreement read.
For gathering the views of the state governments, the rural development ministry will issue detailed advisories in next two months, exhorting them to focus on the effective implementation of various laws aimed at protecting the land rights of dalits and adivasis
"MoRD will also, through a set of advisories exhort and support the state governments to take up a time-bound programme, for securing access to land to specific categories of marginalised and deprived landless families," it said.
For effective implementation of Forest Rights Act Panchayat Extension to Scheduled Area, government agreed to have a detailed consultation with the states and concerned department and ministries.
The government also agreed to set up a task force on land reforms, represented by officials and members of various states and civil rights organisations.
"The MoRD will immediately (within one week) set up a Task Force on Land Reforms headed by the Union Minister for Rural Development to implement the above agenda. Members of the Task Force will include representatives of central government, state governments, civil society organizations working on land reform issues and all stakeholders concerned," the agreement mentioned.
Image: Union Rural Development Minister Jairam Ramesh