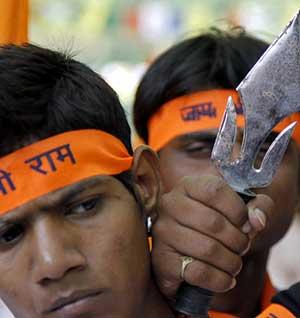 The Centre has rushed additional security forces to Ayodhya to prevent the much-hyped yatra that is being planned by the Vishwa Hindu Parishad in spite of the Uttar Pradesh government placing a decisive ban on the right-wing organisation's plans.
As many as 6,000 men from the Provincial Armed Constabulary and state police force have been deployed in and around Ayodhya.
Besides heavy police deployment, close circuit cameras have also been installed at the entry point to the neighbouring Basti district, where the proposed parikrama was expected to make its first halt after starting from Ayodhya on August 25.
Barely 15 km from Ayodhya lies Makhoda village in Basti district, where, as per legend, Raja Dashrath had held a yagna to seek divine blessings before the birth of Lord Ram.
According to a senior police official, there were 42 entry points to the temple town.
"A contingent of armed policemen will guard each of those entry points to prevent any movement of VHP volunteers who were planning to defy the ban on the parikrama," he added.
Meanwhile, fearing an imminent arrest, all prominent VHP leaders as well as leading saints of Ayodhya have gone underground.
VHP supremo Ashok Singhal , who gave the call for the parikrama, has reportedly left for Delhi. Even local VHP spokesman Sharad Sharma, who is known to be quite media savvy, has been untraceable since Friday afternoon.

The Samajwadi Party government has left no stone unturned to display its much proclaimed intent to ensure a complete ban on the parikrama at all costs.
"Any defiance of the ban will be dealt with firmly," asserted a government spokesman, adding, "The administration cannot allow anybody to vitiate the atmosphere."
Back in Lucknow, Chief Minister Akhilesh Yadav held a meeting of all his party legislators who represent the areas that will be covered by VHP volunteers during the proposed parikrama.
Chief Secretary Javed Usmani also called a meeting of district magistrates of each of the eight districts through which the proposed parikrama is scheduled to pass.
While a section of the local residents perceive the entire development as an outcome of some "underhand deal" between the VHP and the SP government, others don't see any reason in banning the parikrama.
Incidentally, everyone seems to be aware of the fact that the traditional kosi parikrama had already been carried out between April and May.
While there is no denying that the whole affair was aimed at paving the way for communal polarisation well before the 2014 Lok Sabha election, the next 48 hours is bound to keep everyone on tenterhooks.