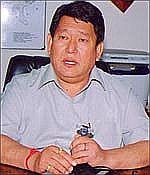 India must be fully prepared to defend its borders in the Northeastern region while striving for improved bilateral ties with China in trade and other fields, Arunachal Pradesh Chief Minister Dorjee Khandu said on Tuesday.
"Border issues are dealt with by the Central government. As chief minister of Arunachal Pradesh, I would like the Central government to be in all preparedness on the borders, while striving for improving bilateral trade and relations to the benefit of both," Khandu told PTI in an interview in Itanagar.
"We should always rely on our strength and take all steps to defend our borders without depending on anybody, no matter how good the relations in other fronts are," he said in reply to a question.
"I can only say that another war between the two Asian giants will affect the economies of both. Instead, both should cooperate to sustain their fast growing economies," he added.
Khandu was asked if he felt that India and China leading a joint block with Brazil and South Africa against the developed countries at the recent Copenhagen meet on climate change has brought both the two a step closer to an early solution to the border dispute, especially in Arunachal Pradesh.
China claims Arunachal as its territory which India has rejected. Khandu said land for eight Advanced Landing Grounds lying unused for long has been handed over to the Union defence ministry for free under a Memorandum of Understanding signed last year with the stipulation that they will be used both by military and civil aircraft.
The state government has also sent a proposal for construction of another ALG in the Buddhist town of Tawang, which attracts 9000 tourists every year, besides being an important border town from the strategic point of view.
The process for allotment of land for accommodation of the proposed deployment of two more divisions of army were also on.
Khandu, who returned to power with two-thirds majority in the October assembly elections, said he intends to retire from politics after his present term expires.
He plans to complete some major projects that will help the backward state become prosperous by exploiting its huge natural resources.
On the cards are the ambitious 1800 km Trans-Arunachal highway and other highways interlinking district headquarters and a four-lane link between the state capital with the rest of the country.
Image: Arunachal Pradesh Chief Minister Dorjee Khandu
© Copyright 2020 PTI. All rights reserved. Republication or redistribution of PTI content, including by framing or similar means, is expressly prohibited without the prior written consent.