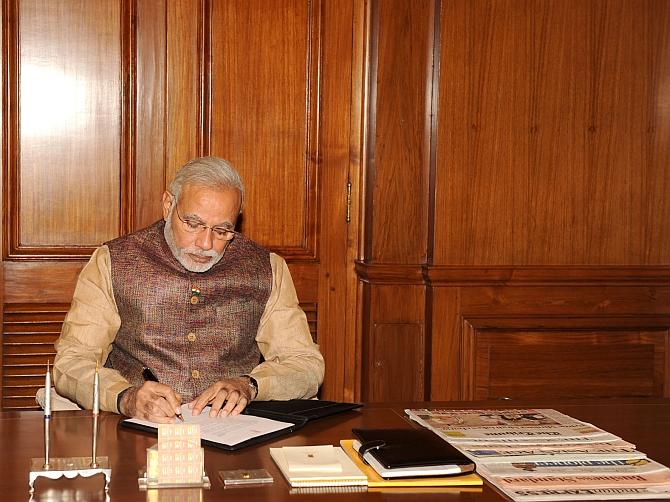 The Centre on Friday asked all its departments and the state governments to implement reservation in promotion for employees belonging to Scheduled Caste and Scheduled Tribe categories.
The move comes following a recent verdict by the Supreme Court in this regard.
The Personnel Ministry, in an order, said, "The cadre controlling authorities of Central government ministries, departments and Union territories are to carry out promotions in accordance with the directions of the Supreme Court."
Every promotion order must clearly mention the stipulation that the promotion shall be subject to further orders which may be passed by the Supreme Court, it said.
According to the order, besides the Central government departments concerned, state governments are also advised to take necessary action in this matter.
The personnel ministry order will be applicable to SC and ST category employees working with the Centre and the state governments, an officer said.
The apex court had on June 5 allowed the Centre to go ahead with reservation in promotion for employees belonging to the SC and ST category in 'accordance with law'.
The top court took into account the Centre's submissions that entire process of promotion has come to a 'standstill' due to the orders passed by various high courts and the apex court had also ordered for 'status quo' in a similar matter in 2015.
"We will say you (Centre) can go ahead with promotion in accordance with law," a vacation bench comprising Justices Adarsh Kumar Goel and Ashok Bhushan had told Additional Solicitor General (ASG) Maninder Singh, representing the Centre.
During the hearing, the ASG cited the case laws on the issue of quota in promotion in government jobs and stated that the apex court's 2006 judgment in M Nagaraj case would be applicable.
The M Nagaraj verdict had said that creamy layer concept cannot be applied to the Scheduled Castes and Scheduled Tribes for promotions in government jobs like two earlier verdicts of 1992 Indra Sawhney and others versus Union of India (popularly called Mandal Commission verdict) and 2005 E V Chinnaiah versus State of Andhra Pradesh, which dealt with creamy layer in Other Backward Classes category.
On November 15 last year, a three-judge bench of the apex court had agreed to consider whether its 11-year-old judgement in M Nagaraj case was needed to be re-visited.
The nine-judge bench of Supreme Court had, in the Indira Sawhney case in 1992, permitted reservation for the SCs and STs in promotion to continue for a period of five years from November 16, 1992.
BJP MP Udit Raj demands quota in govt's lateral entry scheme
Advocating reservation in all contractual jobs, Bharatiya Janata Party MP Udit Raj on Friday demanded quota for OBC, SC and ST candidates in the government's lateral entry scheme for appointment of 10 joint secretary level officials in the bureaucracy.
The North West Delhi MP said he will take up the issue with the top leadership of his party as well as the government.
"I will meet BJP chief Amit Shah and Prime Minister Narendra Modi regarding quota for SC, ST and OBC candidates in appointments of joint secretaries," he told reporters.
He also demanded reservation in higher judiciary saying the Dalit community is 'angry' with it over its judgments on cases of atrocities against them.
"The higher judiciary's decisions in cases of atrocities against Dalits have led to anger among the community," he said citing the Bhanwari Devi gangrape case of Rajasthan.
Blaming that the "dilution" of Scheduled Caste and Scheduled Tribe (Prevention of Atrocities) Act has led to increase in number of cases against cases of atrocities against Dalits, he said, "What happened in Jalgaon and Mehsana shows this. There is no fear in the mind of perpetrators that they will punished."
He claimed 'atrocities against Dalits continue no matter whether Modi, Maywati or Lalu is in power'.
The roots of atrocities against Dalits lie in the society, he claimed.