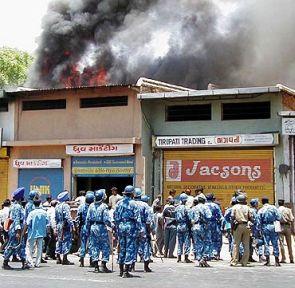 Trying to allay apprehensions of then Bharatiya Janata Party and some state governments, the Centre has decided to drop several provisions in the controversial communal violence bill to ensure that it is neutral to all communities and also reduce the role of the central government in case of riots.
Home Ministry sources said the fresh initiative to amend the provisions of the draft 'Prevention of Communal and Targeted Violence (Access to Justice and Reparations) Bill, 2013' has been taken in the wake of criticism by BJP, West Bengal Chief Minister Mamata Banerjee and her Tamil Nadu counterpart J Jayalalithaa of the controversial legislation.
The draft bill is now made neutral to all groups or communities and the central government will not have any alleged over riding powers anywhere.
Earlier the bill specifically mentioned that the onus of riots lies on the majority community.
Sources claimed the bill is not hitting the federal structure of the country and central government's role will largely be of coordination and will act only when the state government seeks help.
The fresh draft says, "If the state government is of the opinion that assistance of the central government is required for controlling the communal violence, it may seek the assistance of the central government to deploy armed forces of the Union for such purposes..."
Earlier, the Centre was given unilateral powers to send central paramilitary forces in case of communal violence without consulting the state government.
Action will be taken against public servants for dereliction of duties in case of communal violence, the draft bill says.
This provision has been incorporated in the draft communal violence bill to ensure that government officials do not remain mute spectators.
If state government officials fail to act or interfere or incite, or their inaction lead to worsening of situation, their acts of omission or commission will be punishable.
According to the draft, punishment for hate propaganda is three years rigorous punishment along with fine, for organised communal violence, the convict will be sentenced to life imprisonment, for providing financial aid to carry out riot, the offence is three years of imprisonment and fine and for dereliction of duty, an officer will be punished with minimum two years and a maximum of five years of imprisonment.
The government proposes to provide compensation of Rs 7 lakh to the next of kin of anyone who is killed in a communal violence, Rs 5 lakh for rape, Rs 4 lakh for other sexual offence, Rs 5 lakh for permanent disability, Rs 3 lakh for partial disability partial, Rs 2 lakh for grievous injury, Rs 2 lakh for kidnapping and Rs 3 lakh for mental harassment.
Armed forces or security forces personnel will be prosecuted if any breach of command responsibility or if the person in command fails to instruct his or her subordinates, if somebody under his or her command do atrocity, if he or she fails to control subordinates, fails to supervise properly and commits communal violence, instigation, or fail to supervise forces.