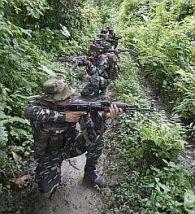 The Centre and Chhattisgarh government will launch joint action against Maoists in Bastar in the days to come, Union Home Minister Sushil Kumar Shinde said after talks with Chief Minister Raman.
"After a discussion on the incident, we have decided to take a joint action," said Shinde emerging from an hour-long meeting with Singh.
"Chief Minister Raman Singh told me that this time we will not put any demand (to Centre), except we want support. Central forces will support the state in joint operation", Shinde said six days after Naxals had carried out an audacious attack in south Bastar on May 25 killing 27 persons, including PCC chief Nand Kumar Patel and senior leader Mahendra Karma.
Shinde asked every Naxal-affected state to develop Greyhound force (on the lines of Andhra Pradesh) to combat Naxals and said "the Centre would offer help in this area".
State Home Minister Nankiram Kanwar, Union Home Secretary R K Singh, CRPF Director General Pranay Sahay and Chhattisgarh DGP Ramniwas were among those who attended a meeting between Shinde and Raman Singh at the Raj Bhavan.
About the attack, Shinde said "in the preliminary investigation, it seems that there are security lapses but an inquiry will further reveal it.
"So far, we were thinking that this (violence) would be some other way of movement. But in 2010 incident (Tadmetla massacre in which 76 security personnel were killed) and May 25 (attack on Congress rally) we have seen it is nothing other than a terror (activity)," he added.