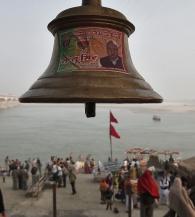 With the Muzaffarnagar riots still fresh in its mind, the Centre has asked the Uttar Pradesh government to maintain status quo in Ayodha, where the Vishwa Hindu Parishad has called for a 'Sankalp Diwas' rally, and prevent any attempt to incite communal tension anywhere in the state.
The home ministry has told UP authorities to observe status quo in the Ram Janmabhoomi-Babri Masjid site in Ayodhya as per the Supreme Court's directive and not allow any gatherings near the disputed area.
Senior officials of the state government are regularly briefing central government officials about the prevailing situation in Ayodhya, official sources said. The UP government has also banned VHP's 'Sankalp Diwas' rally, they said.
The state government has informed the Centre that so far several hundred activists of VHP have been taken into custody as part of preventive measures.
The home ministry has also told the state government to remain alert across the state and keep the communal situation under check.
The Centre has promised to send additional forces if required for the maintenance of law and order in UP, the sources said.
More than sixty people lost their lives and thousands were rendered homeless in the recent communal violence in Muzzafarnagar and adjoining areas.