A day after an aircraft crashed into an under-construction building in Ghatkopar in Mumbai, CCTV footage has emerged showing the intensity of the impact.
The footage shows the plane turning into a ball of fire amidst a deafening roar.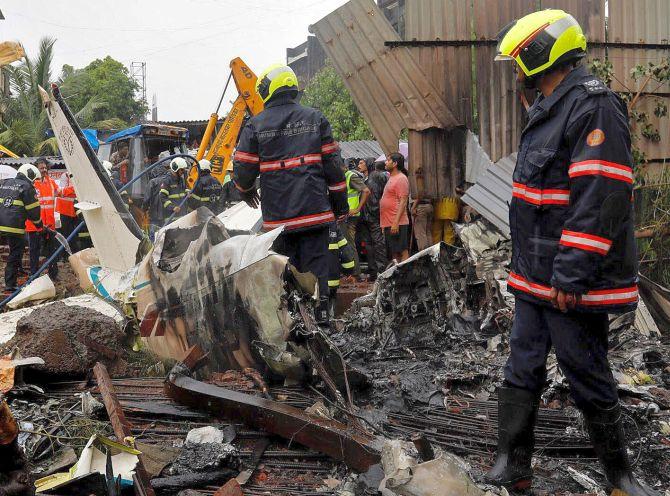 Officials said the footage is from a close-circuit television camera installed in a building near the one into which the 12-seater Beechcraft King Air C90 aircraft crashed.
The footage, however, does not give a clear picture of whether the aircraft burst into flames mid-air or whether it blew up on impact of the crash, an official said.
Mumbai police, which has barricaded the site of the crash, said all stakeholders would be called in to share details as part of the probe into the air mishap.
"A case of accidental death has been registered and an inquiry has been initiated," Akhilesh Singh, Deputy Commissioner of Police, Zone VII, told PTI.
Another police official said residents of nearby buildings, who might have been able to see the accident unfolding, will be asked to chip in with their inputs.
Prakash Shrigiri, who lives in a building adjacent to the spot where the plane crashed, said housing societies of buildings in the vicinity have been asked to submit CCTV footage to police.
The CCTV footage which emerged on Friday is now part of the investigation being helmed by Aircraft Accident Investigation Bureau, an official said.
Bharatiya Janata Party MP Kirit Somaiya said the aircraft seems to have crashed in a 'steep angle'.
"I interacted with the Bureau team at the crash site today and also spoke to half a dozen eye witnesses. It seems the aircraft came dangling almost vertically at an angle of 15-20 degrees," he said.
Five people, comprising four crew members and a worker at the construction site, died in the accident.
The police identified the crash victims as pilots Maria Zuberi, 48, and Pradeep Rajput, engineer Surabhi Brijeshkumar Gupta, 34, technician Manish Tejpal Pande, 21 and Govind Pandit.
The aircraft, owned by Mumbai-based firm UY Aviation, crashed into the under-construction building, in Ghatkopar's Jagruti Nagar locality, a little after 1 pm on Thursday.