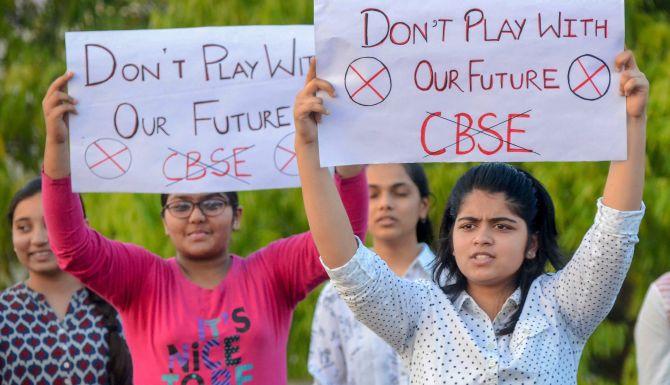 IMAGE: Students display placards during a protest over the alleged paper leak in Jabalpur on Friday. Photograph: PTI Photo

The re-examination of Central Board of Secondary Examination's Class 12 economics paper will be held on April 25, while the re-test for Class 10 mathematics is likely to be conducted in July, Education Secretary Anil Swarup said on Friday.
He said a preliminary enquiry has revealed that the leak for Class 10 mathematics paper is restricted to Delhi and Haryana.
"Regarding Class 10 re-examination, as leak was restricted to Delhi and Haryana, if it at all a re-exam will happen, it will happen only in Delhi and Haryana and a decision will be taken on this in next 15 days. If at all a re-exam is done, it will be in July," Swarup said.
There has been no leak outside India, hence no re-examination will be held outside the country, he said.
The question papers are different for students appearing for the CBSE examinations outside India.
"The idea was to see that around 16 lakh students in Class 10 do not get impacted by the leak that has happened here. And it at all the re-examination has to happen which will get to know fortnight," added the education secretary.
Swarup further clarified the reason behind the decision to conduct re-examination for both the leaked papers differently.
"This decision to hold Class 12 examination is in context, nature, and consequences of the examination of Class 12 examination. As I mentioned earlier, children have to go to the University to seek admission they have to appear in various examinations. Most importantly there is no time for a detailed inquiry where exactly the leak happened," said Anil Swarup.
"Our immediate concern of the children who have suffered and this decision is in that context. We will nail the person who did this," Swarup added.
The HRD ministry also mentioned that the re-examinations would take place only in Delhi and Haryana.
"For Class 10 Maths, the examination will take place if it is found that the leaks had been in Delhi and Haryana. The decision will be only for Delhi and Haryana for rest of the states no re-examination will happen," Swarup said.
"This is not a perfect solution, in such a case there is no perfect solution possible. But we tried our best to limit the damage as much as possible. The information is limited and we are yet to ascertain what went wrong. Thus in such a situation, this decision was the best alternative we had," added Swarup.
He said that though an email was sent to the board informing about paper leak on March 28, it was seen by the CBSE chairman in the morning.
"The paper was sent for verification. Just because there was an alert, we couldn't have stopped the exam.
"The math exam began at 10 am and "could not practically be stopped," Swarup said.
CBSE has already announced re-exam of Class 10 mathematics and Class 12 economics papers after the alleged paper leak. Police is investigating the matter.
With ANI inputs
© Copyright 2023 PTI. All rights reserved. Republication or redistribution of PTI content, including by framing or similar means, is expressly prohibited without the prior written consent.