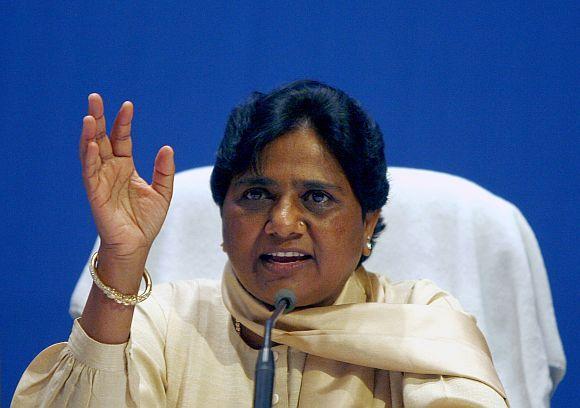 Bahujan Samaj party chief and former Uttar Pradesh chief minister Mayawati said that she will address the media on her reported involvement in the National Rural Health Mission scam on Tuesday.
Mayawati revealed her plans after the Central Bureau of Investigation reportedly said that they would be investigating her alleged role in the multi-crore NRHM scam. The CBI has so far filed 74 first information reports and 48 chargesheets in connection with the scam, in which a former minister and a former principal secretary of the state government have been named.
The CBI reportedly believes that by examining Mayawati, they might "unearth a larger conspiracy".
Media reports so far are saying that the CBI is seeking clarification on the funding of NRHM projects.
CBI sources were quoted, as saying that they have got fresh evidence which makes it necessary to examine Mayawati's role on two issues -- bifurcation of the health and family welfare department and creation of 100 posts of district project officers who were allegedly instrumental in alleged corruption in the implementation of NRHM schemes.
Mayawati was the chief minister of Uttar Pradesh when the department of health and family welfare was bifurcated.
Between 2005-06 and 2011, the Centre gave Rs 11,080 crore to Uttar Pradesh for the implementation of NRHM schemes out of which Rs 9,133 crore was released for utilisation. The state had spent Rs 8,658 crore of the funds released by the Centre.

Image: BSP chief Mayawati