A 10-member Central Bureau of Investigation (CBI) team on Monday visited the Balasore train accident site and began its probe into the triple train crash, a Railway official said.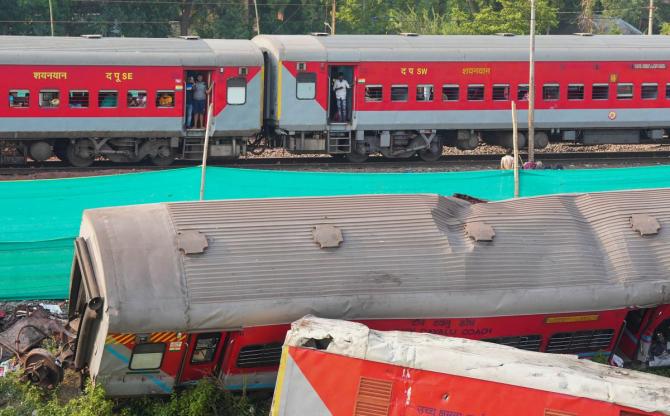 ECoR's Khurda Road division DRM Rintesh Ray said that according to his information, the CBI probe has begun but the details were not immediately known.
The Railway Board on Sunday recommended a CBI probe into the accident.
Earlier, Commissioner of Railway Safety Shailesh Kumar Pathak visited the accident site where he went to the control room, signal room and signal point at Bahanaga Bazar railway station.
This apart, the Government Railway Police in Balasore has registered a case on June 3 under various sections of Indian Penal Code and Railway Act over the accident.
Meanwhile, the railways on Monday put the official death toll in the Odisha triple train crash at 278, stating that three more people have succumbed to their injuries.
The state government's revised toll, however, remained unchanged at 275.
Ray said that apart from 278 deaths, 1,100 people were injured in the June 2 accident.
On the state government's toll remaining at 275, he said, "Figures do change with time."
The toll was earlier put at 288, which the state government revised to 275 on Sunday, claiming some bodies were counted twice.
West Bengal Chief Minister Mamata Banerjee, also a former Railway Minister, questioned the figures, stating that 61 people from her state have died and 182 others are still missing.
Ray said of the 1,100 injured, less than 200 are undergoing treatment in various hospitals.
He said that of the 278 bodies, 177 have been identified while 101 more are yet to be identified and these unclaimed bodies have been kept in six different hospitals.
Ray said the Railways has deployed people in states such as Odisha, West Bengal, Jharkhand, Chhattisgarh, Bihar, Telangana, Andhra Pradesh and Tamil Nadu to locate any missing person.
He said the bodies will be preserved in a scientific manner.