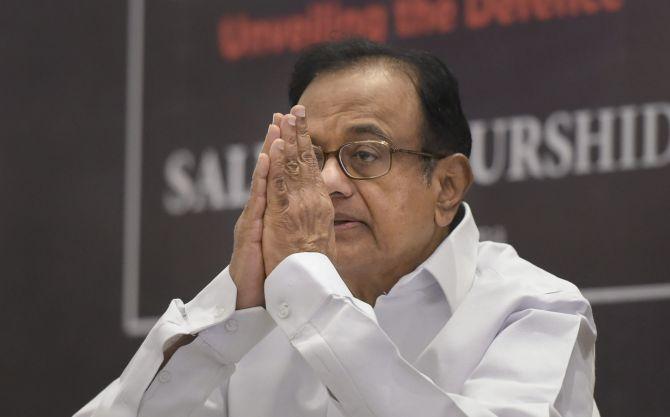 The Central Bureau of Investigation has summoned former finance minister P Chidambaram for questioning in the INX media case on June 6, officials said on Friday.
Chidambaram on Thursday secured interim protection from arrest till July 3 from the Delhi high court in the case lodged by the CBI.
Justice A K Pathak had asked Chidambaram to join questioning and cooperate in the investigation as and when called by the CBI.
The court also issued notice to the CBI and sought its response on the senior Congress leader's anticipatory bail plea and listed the matter for further hearing on July 3, directing that the agency will not arrest him till then.
In Chidambaram's anticipatory bail plea filed through advocate P K Dubey, it was contended that the former minister was being harassed in the case in which he was not named in the first information report.
However, he has been asked to join questioning by the CBI.
Chidambaram had on Wednesday rushed to a trial court for protection from arrest in the Aircel-Maxis case of the Enforcement Directorate before approaching the high court in connection with the INX Media case.
Chidambaram's role has come under the scanner of investigating agencies in the Aircel-Maxis deal of Rs 3,500 crore and INX Media case involving Rs 305 crore. It was during his tenure as finance minister in the United Progressive Alliance-1 regime that Foreign Investment Promotion Board clearance was granted to the two ventures in which alleged irregularities have been found.
In the INX Media case, the CBI had registered an FIR on May 15 last year against alleged irregularities in the FIPB clearance to INX Media for receiving overseas funds to the tune of Rs 305 crore in 2007 when Chidambaram was finance minister.
Chidambaram's son Karti Chidambaram was also arrested in the matter on February 28 for allegedly receiving funds to the tune of Rs 10 lakh in the case. He was granted bail on March 23.
The other accused in the case include then INX Media Director Indrani Mukerjea and then INX News Director Peter Mukerjea.