The Central Bureau of Investigation is likely to seek from the Supreme Court withdrawal of charges of organised crime against 1993 Mumbai blast accused Abu Salem after receiving legal opinion on the issue.
Sources in the CBI said the agency may move the Supreme Court this week seeking withdrawal of additional charges slapped on Salem by Delhi and Mumbai Police, so that it can honour its commitment given to Portugal from where the gangster was extradited to India.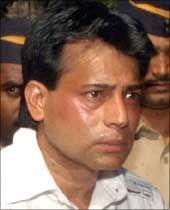 India had given an 'executive assurance' to Portugal that Salem will not be given death penalty or charged with any section of the law which entails jail term of more than 25 years.
Delhi and Mumbai Police, however, had slapped charges which invoke death penalty against him.
Later, police wanted to withdraw the charges but the courts did not approve of it. This led to a protracted legal battle which ended in the Supreme Court in September 2010 that rejected his plea.
Meanwhile, a Portuguese court cancelled the extradition of Salem on the grounds that by slapping new charges, Indian authorities had violated terms and conditions of his extradition which had been upheld by their Supreme Court as well.
After taking legal opinion in the matter, CBI has come to the conclusion that additional charges slapped by Delhi and Mumbai Police under Maharashtra Control of Organised Crime Act and other such Act should be dropped, CBI sources said.
They said the agency would seek directive from the Supreme Court on the issue this week.
Salem, who is an accused in the 1993 Mumbai bomb blasts case which left 250 dead, was extradited on November 11, 2005 from Portugal where he was arrested in 2002, along with his girlfriend Monica Bedi.