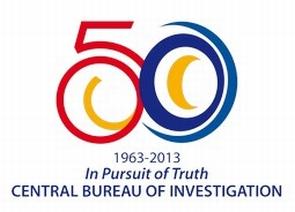 Endless cases, piles of files, meagre resources and unrelenting scrutiny... the CBI's life story is all that and more, says Ruchika Chitravanshi
"... And did you exchange a walk-on part in the war for the lead role in a cage? "
-- Roger Waters & David Gilmour (Wish you were here; Pink Floyd)
Meant for bigger things, the Central Bureau of Investigation ended up belittled by the highest court of the land as a "caged parrot", with nowhere to go. The agency's head Ranjit Sinha agreed with the observation. A closer look inside the metaphorical cage, however, reveals not a coy bird but a fairly industrious beast of burden.
Behind the scathing headlines and endless case files is the story of a resource-crunched institution out to serve, among others, the ends of justice.
New teeth
The jury may be out on how independent the CBI is but the agency has managed to strike fear across corporate India's boardrooms and corner rooms like never before through a string of cases. Everyone seems to be watching out for the next First Information Report or charge-sheet or raid.
The glass facade of the new CBI headquarters in the Capital may be doing its best to block a view inside but the spotlight on the premier investigator never abates. Be it the allocation of telecom spectrum or coal blocks, or taped conversations between lobbyists and the powerful, the agency has been at the centre of it all.
But high-profile cases do not alone make up its vast to-do list. The day the CBI announced it had registered a case against industrialist Kumar Mangalam Birla, it also issued a media release on the arrest of a Kendriya Bhandar regional manager for allegedly having accepted a bribe of Rs 2,550.
Corruption comes in all shapes and sizes, and in good measure -- so much so that the agency has a dedicated anti-corruption branch.
"Even the US FBI does not deal with corruption as a separate subject," says a CBI officer.
With 2,500 investigation officers out of its total 6,000 personnel, the CBI handles nearly 1,000 cases every year, 66 per cent related to corruption.
"When you proceed against top ministers or industrialists, there's immense pressure to get your facts right. Increased judicial and media scrutiny only adds to it," says the officer.
Officer-case ratio
The CBI recently posted ads for recruitment of "pairavi officers", banking and taxation advisors and librarians with adequate experience in their respective fields, to be hired on contractual deputation. Usually, for one case, two officers are appointed.
But 30-40 officers have been deployed for the 2G case alone and 33 for the coal block case (one officer deals with each FIR, and there have been 14 so far).
The agency registered 13 preliminary enquiries in less than a week in the Niira Radia taped conversations matter. Each requires a probe into issues linked to senior bureaucrats, industrialists, corporate entities and politicians, necessitating greater due diligence. The CBI does get help from the ministries concerned, though, in understanding technical and policy issues.
Hits and misses
In five years, the agency has cut the deadline for finishing a case from two years to one. Many PEs don't get converted into First Information Reports and chargesheets. More than 300 cases have been "red flagged" for not meeting the deadline.
"Cases pile up because we can't find evidence or don't have the wherewithal to procure it," says an officer.
While the agency needs 30 per cent more investigation officers to wrap up cases expeditiously, it also requires better technical expertise.
The CBI out-sources forensic audit work. It has tied up with National Law School, Bangalore, to train its legal officers.
Last year, it hired bankers and trained them to join its bank fraud probe cell. The agency is investing Rs 120 crore in its own forensic lab in Delhi.
Necessary rigmarole
From the filing of an FIR to conviction, all steps are documented. A regular progress report is filed and once the final draft is ready, the director of prosecution gives an opinion; thereafter, special directors and the director take over.
"We try to follow the best management practices for any investigating agency globally. We have provided laptops to all officers. Online security is a concern we are trying to address," says an officer.
The agency may have won itself some bragging rights with its recent activism but critics are far from moved.
"Because the general opinion is in favour of accountability, norms are often flouted to bring people to book. But those put in the dock are way too low in their respective hierarchies; fountainheads of conspiracies sit comfortably," says Aman Lekhi, senior advocate.
But senior CBI officers are hopeful "something good will come of all this", alluding to the all-pervasive focus on big-ticket corruption. If that happens, the agency would like its own image to emerge as squeaky clean as the glass walls of its headquarters.