'I may be hanged but before that I will uproot you and smash your arrogance to smithereens. You are trying to incite conflict in the grand alliance,' said a defiant RJD chief targetting Modi and BJP President Amit Shah.
IMAGE: Lalu Prasad arrives to appear before CBI Court in a case related to Fodder scam in Ranchi.
Photograph: PTI Photo
Rashtriya Janata Dal supremo Lalu Prasad on Friday sank into deeper trouble with the Central Bureau of Investigation conducting raids across four cities in a corruption case in which his wife Rabri Devi and son Tejashwi are among the accused.
The case relates to alleged manipulation in award of contract for maintenance of two hotels run by a subsidiary of the Indian Railways – IRCTC -- when the RJD chief was railway minister in the United Progressive Alliance government.
The searches, which started at 7 am and included Rabri Devi's Circular Road residence in Patna, were spread across 12 locations in Patna, Ranchi, Gurgaon and Bhubaneswar. The raids included the premises of the Yadav family as well as those of his confidante Prem Chand Gupta, a former Union minister, whose wife Sarla Gupta is listed as an accused in the FIR.
The raids came at a time when there was visible strain in Bihar's ruling grand alliance, comprising Janata Dal-United, RJD and the Congress, with Chief Minister Nitish Kumar declaring support for National Democratic Alliance's presidential nominee Ramnath Kovind.
Lalu had called Kumar's decision a "historic blunder".
The fresh case against Lalu came barely two months after the Supreme Court restored the criminal conspiracy charge against him in the fodder scam and ordered separate trial in all the four cases against him.
Others named in the FIR include Vijay Kochhar, Vinay Kochhar (both directors of Sujata Hotels), Delight Marketing company, now known as Lara Projects, and then IRCTC managing director P K Goel.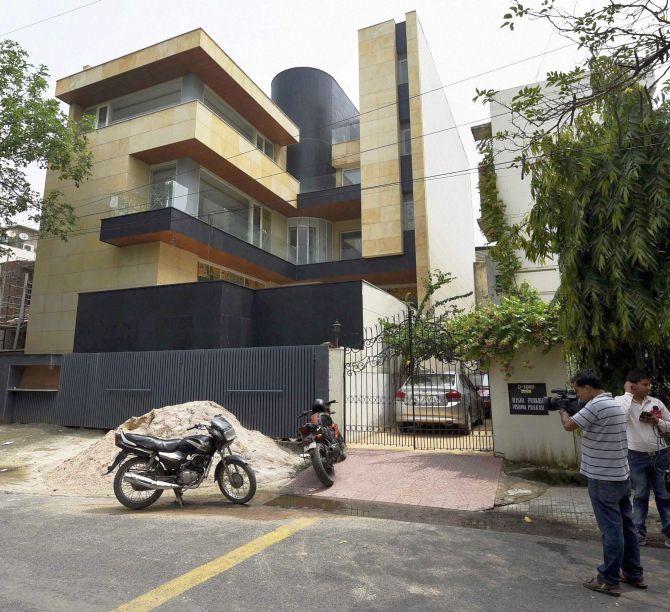 IMAGE: Property of RJD Chief and former Bihar Chief Minister Lalu Yadav and his family where CBI conducted raid at New Friends Colony in New Delhi. Photograph: Kamal Singh/PTI Photo
It is alleged that Lalu Yadav as railway minister handed over the maintenance of two railway hotels to a company after receiving a bribe in the form of prime land in Patna through a benami company owned by Sarla Gupta.
The FIR was registered on July 5 in connection with alleged favours extended to Sujata Hotels in awarding a contract for the upkeep of the hotels in Ranchi and Puri and receiving premium land as a "quid pro quo", the CBI has alleged.
Briefing the media on the case, CBI Additional Director Rakesh Asthana said the criminal conspiracy spanned 2004-14 during which the tender process was "rigged" in favour of Sujata Hotels.
"In return, the owners of Sujata Hotel gave three acres of land in western Patna to Delight Marketing which is known to the family of Lalu Yadav at a very low cost. Subsequently, between 2010 to 2014, this land was further transferred to another company Lara Projects owned by family members of Lalu Yadav," he said.
Asthana, second in command in the CBI who had supervised the fodder scam probe in the CBI in which Lalu Prasad was convicted, said the case was registered under IPC sections related to cheating and criminal conspiracy and provisions of Prevention of Corruption Act, 1988.
Lalu, who was in Ranchi for appearance in a CBI court in connection with a fodder scam case, termed the action by the central agency a "part of vendetta politics" being pursued by the Bharatiya Janata Party and vowed to "uproot" the saffron party from across the country.
"Listen, Narendra Modi and Amit Shah...I may be hanged but before that I will uproot you and smash your arrogance to smithereens. You are trying to incite conflict in the grand alliance. We and people of Bihar understand this," a combative Lalu asserted at a hurriedly called press conference in Patna, hinting at the underlying tensions in the ruling alliance.
He, however, hastened to add that everything was "all right" in the three-party coalition.
"We have decided to uproot and finish the BJP. This case has nothing to do with out grand alliance... it is intact," he asserted.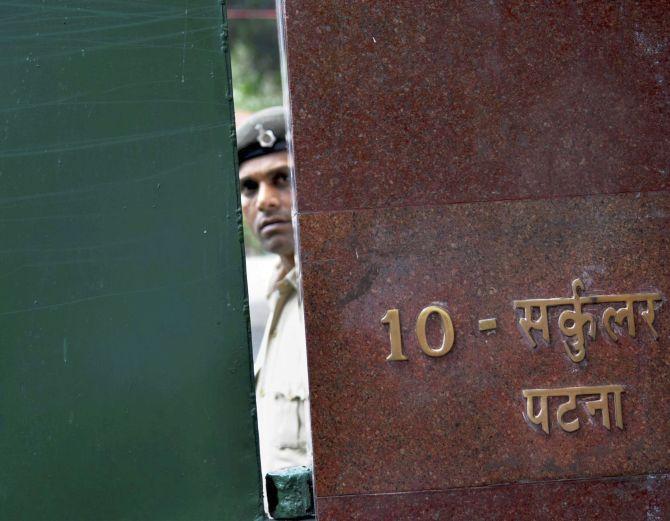 IMAGE: A p

oliceman stands guard outside RJD Chief Lalu Prasad's residence as CBI conducts raids at 10, Circular Road in Patna on Friday.

Photograph: PTI Photo
Lalu criticised the CBI's action of naming his wife Rabri Devi, a former chief minister, and son Tejashwi, the current deputy chief minister, as accused in the case. He said when the alleged irregularities took place, Rabri was not a public servant and Tejashwi was a minor.
The RJD leader said his family cooperated with CBI personnel during the raid and would continue to extend cooperation.
He claimed the contracts for maintenance of the hotels were awarded on the basis of "open bidding" and no irregularities took place.
As the RJD boss fumed and fulminated against the BJP, the JD-U maintained a studied silence on the issue with none of its top leaders defending the beleaguered former railway minister.
Many in the party believe the weakening of Lalu would translate into strengthening of Nitish Kumar who will have more freedom in running the coalition government.
The alliance between the two parties after the 2014 Lok Sabha poll rout was seen as a marriage of convenience as Lalu and Kumar had long been at loggerheads. However, it brought in huge gains for the three-party alliance which managed to stall the BJP juggernaut in Bihar and formed its government.
Though the JD-U maintained silence on the issue, the Congress jumped to the defence of its ally, calling central agencies like Enforcement Directorate and the CBI "captive puppets" of the BJP government.
Criticising the raids on the premises of Lalu and his kin, Congress chief spokesperson Randeep Surjewala said in the national capital that the law of the land must prevail impartially.
"Law of the land must take its own course in an impartial and just manner. However, when law enforcing agencies like CBI/ED become 'captive puppets' of BJP government, acting as 'dirty tricks department' to seek revenge against political opponents, it doesn't bode well for democracy," he said.
He also questioned the "inordinate delay" in registering the case.
However, the government rubbished the "political vendetta" charge.
"What is political vendetta? Where is BJP in this? I am not able to understand. Do you mean to say that anybody against whom any charge is there, it should not be inquired into at all?" Naidu asked.
"CBI is doing its duty and it is allowed to do so. Earlier it was not allowed... after our government came there is no interference and that is why CBI is free and acting as per the mandate given to it," he told reporters in the national capital.