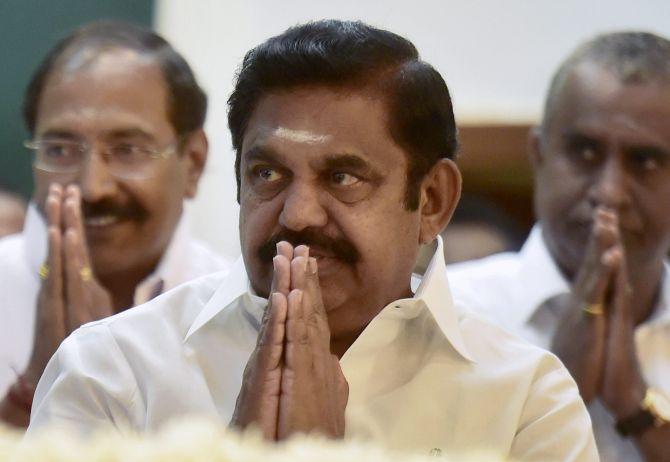 A delegation of Dravida Munnetra Kazhagam leaders on Wednesday met Governor Ch Vidyasagar Rao in Mumbai and demanded dismissal of Tamil Nadu Chief Minister E Palaniswami alleging that he and some ministers in his cabinet indulged in 'large scale bribery of voters' in the run up to the RK Nagar assembly bypoll.
The delegation met the governor, who also holds charge of Tamil Nadu, at the Raj Bhavan and submitted a memorandum highlighting the party's demands in the wake of tax officials questioning Health Minister C Vijayabaskar in an alleged tax evasion case.
It also demanded a Central Bureau of Investigation probe in the matter.
The delegation comprised DMK leaders R S Bharathi, T K S Elangovan and Tiruchi N Siva.
The memorandum alleged that there had been 'large-scale bribery of voters' indulged in by Palaniswami and his cabinet ministers, including Vijayabaskar in RK Nagar assembly constituency.
It alleged that there were 'corrupt practices, penal offences involved' and sought 'disqualification and dismissal of the CM and other ministers named in the IT raids'.
The memorandum was signed by TN Opposition Leader and DMK Working President M K Stalin.
'I, therefore, request honourable Governor to call for the resignation of Thiru Edappadi Palanisami, Chief Minister, and the following ministers: K A Sengottaiyan, Dindigul C Srinivasan, P Thangamani, S P Velumani, D Jayakumar, Sellur K
Raju, M C Sampath, V M Rajalakshmi, Velamandi N Natarajan, S Valarmathi forthwith and on failure to do so, to dismiss them from the office held by them so as to uphold the constitutional values and morality and oblige.
'I also request your good offices to appropriately advise Union government to institute a CBI probe into this massive corruption of the Council of Ministers belonging to AIADMK government in the interest of democracy and the state,' said the memorandum.
The Income Tax Department officials had earlier this week questioned Vijayabaskar and actor-politician Sarath Kumar in an alleged tax evasion case.
It also conducted searches at the official residence and properties owned by Vijayabaskar and at Sarath Kumar's home in Chennai on April 7.
The searches at the premises of an associate of Vijayabaskar had allegedly revealed routing of Rs 89 crore for distribution to voters in RK Nagar assembly constituency, where a bypoll was originally scheduled for April 12.
The Election Commission has cancelled the bypoll, saying the electoral process had been 'seriously vitiated' by parties through the use of money power.
"Palanisami and his Cabinet belongs to the AIADMK (Amma) faction headed by one T T V Dinakaran against whom a FERA case is underway," it said.
"Dinakaran began campaigning in the constituency and simultaneously indulged in the bribing of voters. He, along with his puppet Chief Minister Eddapadi Palanisami and his puppet cabinet ministers, particularly Vijayabaskar, appears to have entered into a criminal conspiracy to spend nearly Rs 100 crore of ill-gotten wealth to bribe each voter in the constituency," the memorandum said.
The documents seized by the IT Department in the house of Vijayabaskar show 'detailed accounts of bribes given to about 2.24 lakh voters out of 2.63 lakhs voters in the constituency', it alleged.
'These documents show that the persons involved in the distribution of money are as follows: Chief Minister Eddapadi Palanisami (sic); Ministers -- K A Sengottaiyan, Dindigul C Srinivasan, P Thangamani, S P Velumani, D Jayakumar, Sellur K Raju, M C Sampath, V M Rajalakshmi, Velamandi N Natarajan, S Valarmathi, and R Vaithilingam, Rajya Sabha MP,' it said.
The documents show 'beyond doubt' that the official machinery of the state has been abused by the chief minister and these ministers to bribe voters and they have violated their oaths and thrown to winds constitutional morality, the memorandum alleged.
It urged the Governor to immediately direct the chief minister and the other ministers named in the documents seized from Vijayabaskar to resign, and if they failed to do so, dismiss them as they lack proprietary to hold office.
'No other state in India has had the ignominy of having its sitting chief minister and Council of Ministers act as bribing agents, shamelessly tarnishing not only the office they hold but also the edifice of democracy which is manifest in the electoral process,' the DMK alleged in the memorandum.
IMAGE: Tamil Nadu Chief Minister Edappadi Palaniswami. Photograph: PTI Photo
© Copyright 2021 PTI. All rights reserved. Republication or redistribution of PTI content, including by framing or similar means, is expressly prohibited without the prior written consent.