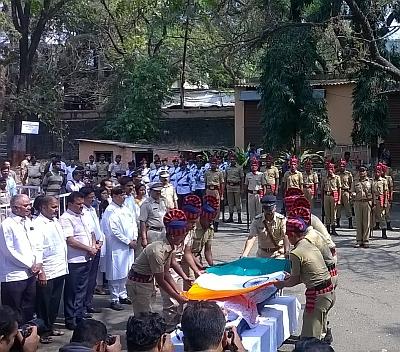 Eminent cartoonist R K Laxman, who passed into the ages on Monday evening, was cremated in Pune with state honours on Tuesday.

Maharashtra Chief Minister Devendra Fadnavis, Union Minister of State Prakash Javadekar, state Culture Minister Vinod Tawade and Maharashtra Navnirman Sena chief Raj Thackeray were among the dignitaries who offered tributes to the cartoonist before his mortal remains were consigned to flames at the Vaikunth Crematorium in the city.

Fadnavis later announced that the state government would build a memorial for Laxman.

"It is indeed a very said moment that R K Laxman has passed away. He was not just a cartoonist, but he always had something to say through his cartoons. His demise has created a void. Although he has passed away, the common man that he had created will always will live forever and will be a guidance force for any political regime. We would like to create a memorial for R K Laxman. I pay my homage to him," said Fadnavis."

Javadekar said
Laxman was a legendary political commentator who gave voice to the common man.
Maharashtra Governor Ch Vidyasagar Rao described Laxman as the most powerful representative of the common man who articulated viewpoints of the silent millions before the powers that be, for more than 50 years through his cartoons.
S B Mujumdar, founder of the Symbiosis Institute and Laxman's old friend, reminisced that once while talking, Laxman had asked him whether he believed in God.
"I said yes. Then he said, 'when I ask this question, many people say yes'. But the question is, does God believe in you?' That was a very telling and very moving comment which had vast meaning in it."
Laxman died at a private hospital in Pune after suffering multi-organ failure. He was admitted to the hospital on January 17 for urinary infection. He suffered multi-organ failure and was put on ventilator.
Laxman, brother of late novelist RK Narayan, is survived by writer wife Kamala, retired journalist son Srinivas and daughter-in-law Usha.