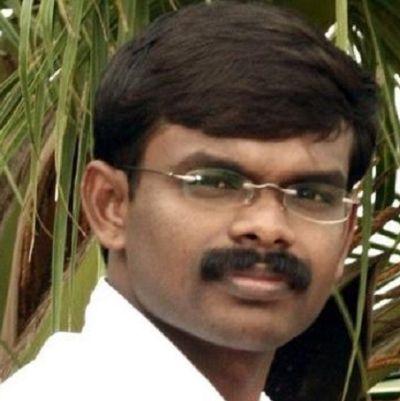 A freelance cartoonist was released on bail by a court on Monday, a day after he was arrested for allegedly depicting Tamil Nadu Chief Minister K Palaniswami in an obscene manner, in a caricature on a recent incident of a couple setting its two kids on fire before committing self-immolation due to usury.
Judicial Magistrate M Ramadhas granted bail to G Bala alias Balakrishnan after he was produced in court on Monday.
Bala, 36, was arrested in Chennai on Sunday on a complaint by District Collector Sandeep Nanduri, who was also caricatured in the cartoon, along with the city police chief.
The cartoon was posted on the social media and shared by thousands.
Bala has been booked under Indian Penal Code section 501 (printing or engraving matter known to be defamatory) and the relevant provisions of the Information Technology Act.
His arrest triggered condemnation from various quarters, including the media fraternity and political parties, with the Chennai Press Club on Monday staging a demonstration in the state capital, Chennai.
Senior journalists took part in the protest and raised slogans against the government.
The press club, in a statement, said Bala had expressed his voice against social evils and put out the cartoon, angered over the usury episode.
Speaking to reporters on the court premises before being produced before the magistrate, Bala said he did not commit any murder.
"There is no need for me to express regret. I will continue to draw cartoons, criticising the failures and wrongs of the government," he said.
There was a brief scuffle between the police and a section of the mediapersons when Bala was brought to the court.
Some of the reporters present there protested the cartoonist's arrest and shouted slogans against the police.
The complaint alleged that Bala had drawn a cartoon defaming the chief minister and showing him in a bad light.
The cartoon was posted on Bala's Facebook page, days after a man and his wife set themselves and their two kids afire at the collectorate complex, allegedly due to harassment by a private money-lender.
While the woman and her two children died on the day of the incident (October 23), the man succumbed to burn injuries subsequently.
The incident drew widespread condemnation from the political parties and civil society groups over usury.