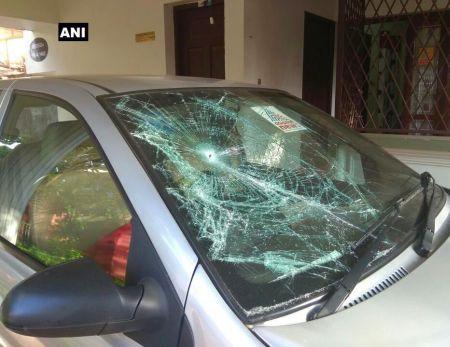 A car parked in a Malayalam television channel's office complex in Alapuzha was found vandalised early on Thursday with various political parties condemning the incident and terming it as an attack on the media.
Following the incident at the Asianet News office, Kerala Chief Minister Pinarayi Vijayan directed the police to conduct a "robust" probe.
"A direction has been given to the police to conduct a robust probe and arrest the culprits involved in the attack on the vehicle in Asianet office," he said in a Facebook post.
The channel's chief reporter in Alapuzha T V Prasad was in the office when the incident occurred. However, it came to light only in the morning, the police said.
Director General of Police Loknath Behara said a Special Investigation Team had been constituted to probe the incident.
Top police officials have started an investigation into the incident.
Political leaders and others condemned the incident and demanded that the government bring the culprits to book.
Leader of the Opposition in the Assembly Ramesh Chennithala described the incident as shocking.
"It should not have happened in our state. This is an assault on the freedom of the press. Any challenge against media freedom will hurt democracy. An independent enquiry is needed at the IGP level," the Congress leader said.
It is the duty of the media to bring out news and "it is not proper to express intolerance towards it", he said.
Ruling Communist Party of India-Marxist state secretary Kodiyeri Balakrishnan said the accused should be brought to book as soon as possible and CPI state secretary Kannam Rajendran also condemned it.
Bharatiya Janata Party Kerala president Kummanam Rajasekharan said attacking the media when it brings out "corruption and irregularities" cannot be justified in a democracy.
He was apparently referring to a series of reports being telecast by the channel on 'encroachment' of backwaters in Kuttanad in Alappuzha allegedly by a state minister.
Former chief minister Oommen Chandy and SNDP general secretary Vellapally Natesan also condemned the attack.