'I just did my duty,' says the captain, who will become the first woman in history to receive the International Maritime Organisation Award for Exceptional Bravery at Sea for her dramatic rescue.
Nikita Puri reports.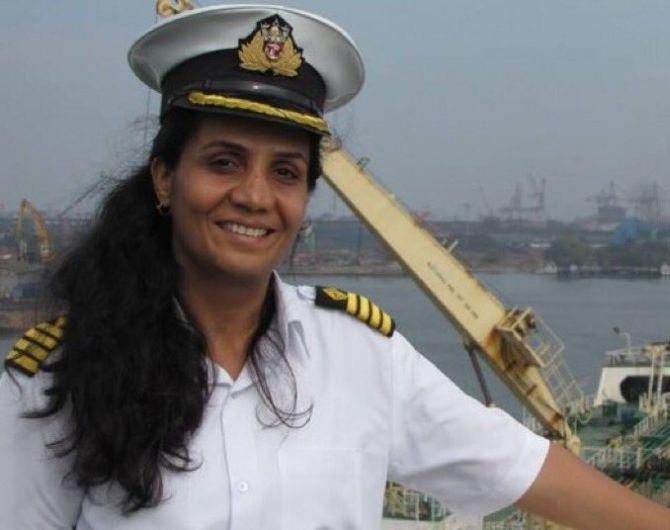 IMAGE: Captain of the Sampurna Swarajya, Radhika Menon was the first Indian woman to command a merchant ship. Photograph: @m_lekhi/Twitter
Amid reports of fishermen drowning in the turbulent Bay of Bengal last year, the second officer of the Sampurna Swarajya, an oil products tanker, spotted a boat off the coast of Gopalpur, Odisha.
Following engine failure and loss of anchor in severe weather, this fishing boat called Durgamma had long lost sight of the shore after it drifted away from Kakinada, Andhra Pradesh.
The seven men on the boat -- the youngest, a boy of 15, and the oldest a 50 year old -- had given up any hope of survival. All their food and water had been washed away, and they were surviving on ice from the cold storage.
Back on the shore, when these men hadn't returned from the sea for a week, their families had already considered them to be lost.
Sampurna Swarajya's Captain Radhika Menon was not deterred by the waves that rose up to 25 feet; she wasted no time in ordering a rescue operation amidst winds that hollered at 60 knots and as heavy rains lashed down on the tumultuous sea.
"Rescue operations at sea are not easy because of many reasons," explains Menon's other half, Praveen Venugopal. "When you try to approach a smaller boat, like it was in this case, the boat could have rammed into the ship and broken. Visibility reduces drastically during bad weather, so the possibility of sighting another boat also reduces."
Venugopal has had a stint with the merchant navy before joining a private telecom company in Kochi. That Menon was manoeuvring a big vessel was in itself a tough task. The ship takes its time to move. After three arduous attempts in the swelling sea, Menon managed to get all seven fishermen on board the Sampurna Swarajya.
Recognising Menon's role in what is described as a 'dramatic rescue,' the government had nominated her for the 2016 International Maritime Organisation Award for Exceptional Bravery at Sea. This award was instituted in 2007 by the International Maritime Organisation, a specialised arm of the United Nations. Come November, Menon will become the first woman in the world to receive this award.
'I am humbled, honoured and grateful,' Menon told the media. 'It is a maritime obligation to save souls in distress at sea and, as a seafarer and master in command of my ship, I just did my duty.'
Ships can be out sailing for six months or more, and communication with the world is often limited. Though Menon couldn't respond to e-mails because she had already shipped out, she has in the past spoken about the perils of being at sea. 'It has so many different moods; the sea can be unforgiving if you make a mistake. Carelessness and complacency has led to disasters. The sea must always be treated with respect.'
Menon's focus and dedication to the job has been unmissable -- when her and Venugopal's son was born 20 years ago, they decided that her husband would be the one to 'stay grounded.'
Back in 2012, Kochi-based Menon had become the first Indian woman to command a merchant ship; this was the Suvarna Swarajya (also an oil products tanker). She started out as a trainee radio officer with the Shipping Corporation of India soon after her Class 12 examinations in 1991.
Though the news of her captainship had made a splash everywhere, for Menon it was only a gradual progression: she had been with the merchant navy for over two decades, after all.
Moving from port to port, Menon has said that her work is scrutinised more than a male captain's, but she has no problems with her primarily-male crew. 'The crew knows me well and has no problems in taking orders from me,' Menon has said.
In the midst of all the media attention, Menon's steadfast focus remains on her crew and the sea.