There is no law in Pakistan to prove its authenticity, a top prosecutor in the case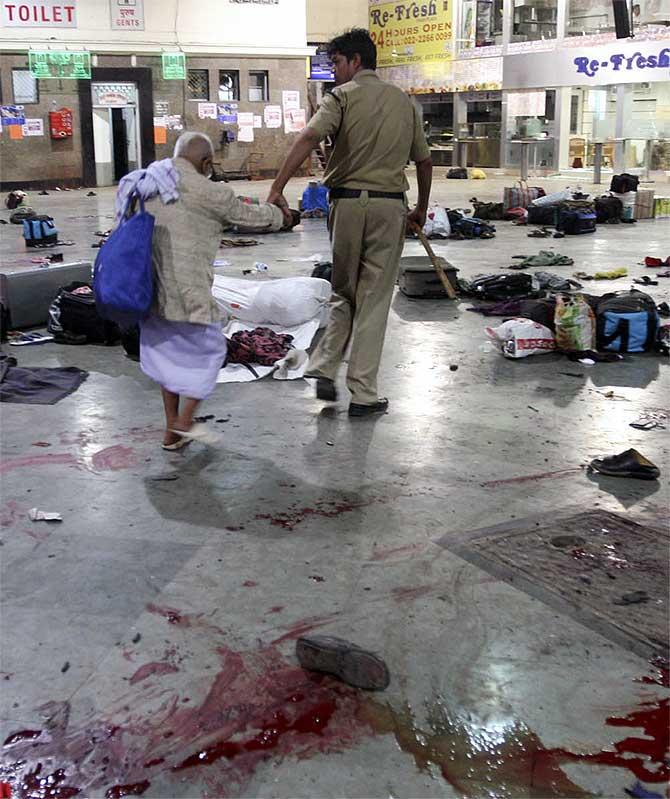 A policeman and an elderly man at the CST station in Mumbai, one of the sites of the 26/11 attacks. Photographs: Reuters
Lashkar-e-Tayiba operations commander and Mumbai attack mastermind Zaki-ur-Rehman Lakhvi's voice samples cannot be used as evidence as there is no law in Pakistan to prove its authenticity, a top prosecutor in the case has said.
After having pursued the matter for four years, Pakistan's premier Federal Investigation Agency now says the voice samples cannot be used as evidence.
"Though it might be helpful in the course of investigation but the audio allegedly recorded by the Indian intelligence cannot be used as evidence as there is no law under which the authenticity of the voice could be proved," a senior prosecutor in the case told Dawn News. He said that though the existing laws permitted the use of electronic evidence, there is no provision under which an accused can be forced to provide an audio recording of his voice which can then be matched with available samples.
FIA Special Prosecutor Mohammad Azhar Chaudhry told the daily that "there is no law in Pakistan that allows the prosecution to forcibly obtain the voice sample of an accused. There is no such law in India and the US.
We cannot force the accused to give their voice sample".
In 2011, the agency went to the Islamabad high court to obtain the voice samples of Lakhvi and his co-accused Abdul Wajid, Mazhar Iqbal, Hammad Amin Sadiq, Shahid Jamil, Jamil Ahmed and Younas Anjum currently confined in Adiala Jail. The petition is still pending in the high court.
Four years ago, a Rawalpindi court handling the Mumbai attack case had dismissed an application for obtaining voice sample of Lakhvi on the ground that no such law exists in Pakistan that allows obtaining of voice sample of an accused.
The prosecutor's assertions comes nearly a week after the prime ministers of India and Pakistan agreed during their meeting in the Russian city of Ufa to expedite the Mumbai case trial including additional information like providing voice samples.
Lakhvi, 55, and the six other accused have been lodged in Adiala Jail for nearly six years in connection with planning and executing the Mumbai attack in November, 2008 that left 166 people killed.
© Copyright 2022 PTI. All rights reserved. Republication or redistribution of PTI content, including by framing or similar means, is expressly prohibited without the prior written consent.